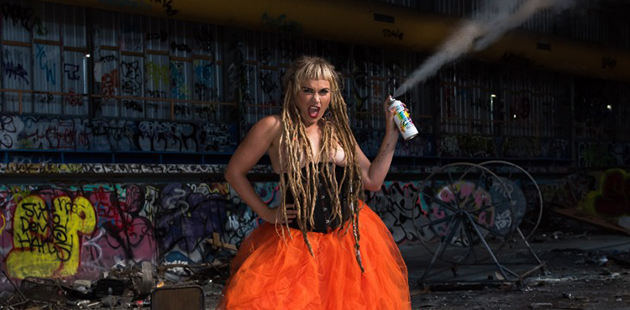 2018 Melbourne Fringe Festival program is a veritable kaleidoscope of diversity – featuring over 770 LGBTQI+ identifying artists and presenting a range of exciting work that challenges traditional norms and pushes boundaries (and maybe just a few buttons!). This year, Fringe artists will tackle a range of hot topics and explore issues that have significant impact within queer and non-queer society.
Some of this year's festival highlights include award-winning artist Selina Jenkins (Beau Heartbreaker) with her brand-new work, Thy Neighbour – the true story of two queer women who were driven from their home in a rural Victorian town during the same-sex plebiscite. Thy Neighbour is showing at Hare Hole (13 & 14 September at 7pm) and Fringe Hub: Arts House (18 – 21 September).
Pilepileta by Sheree Stewart will investigate her experience of being a "big queer Aboriginal woman in a small redneck town" – encapsulating the resilience of the human spirit in a poignant, painful yet powerfully beautiful show. Pilepileta is showing at Theatre Works (25 – 30 September).
Transgender comedian Chloe Black tackles issues from her breadth of experience living as both genders in her stand- up comedy Transistor Sister, delving into her life and outlook on dating, coming out, and living true to one's self. Transistor Sister is showing at Pilgrim Bar (20 – 28 September).
After an acclaimed performance at this year's Adelaide Fringe Festival, Sophie deLightful hits Melbourne Fringe with Anatomy of a Power Pussy – challenging perceptions and provoking thought about "empowering energy that challenges us to be the fiercest versions of ourselves". Anatomy of a Power Pussy is showing at Hare Hole (15,19 & 22 September).
It's 2028 and Prince George is pissed off. The Queen is dead, the Monarchy is set to follow and he really, really wants to be King. The Boy, George fictionalises the real life of Prince George, turning him into a queer, fame-obsessed teen and exploring society's fixation with the rich and famous. The Boy, George plays Errol's & Co. (20 – 25 September).
Kirsty Webeck has been storming the country alongside the biggest names in comedy with her relatable, hilarious brand of humour. Lately she has been realising that things aren't always what she first thought they were and her brand-new show, I Get It Now is the hilarious culmination of these discoveries at Fringe Hub: Arts House – Underground (22 – 29 September)
A show of stress, anxiety and love, Dean Robinson stars in The Date. Justin, a young, anxiety ridden gay man, grooms and groans for a first date, he's nervous and very out of practice so what else can he do but call his best friend for advice. He begins to ponder past relationships and dates, and how they have shaped him to who he is today. The Date plays at The Butterfly Club (24 – 30 September)
A big, bold and playful celebration of independent art that takes over the city, Melbourne Fringe runs 13 – 30 September 2018. For more information, visit: www.melbournefringe.com.au for details.
Image: Sophie deLightful stars in Anatomy of a Power Pussy (supplied)