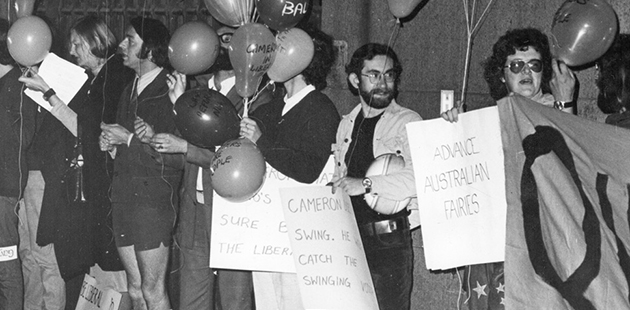 The ground-breaking work of one of Australia's first political organisations for lesbian and gay people, CAMP Inc, will be recognised with a special accolade at this years Honour Awards on Wednesday 3 October 2018.
Now in its 12th year, the Honour Awards is an annual event which celebrates outstanding service to, and achievements within, NSW's LGBTI community. Thirty two finalists across nine categories covering the arts, media, HIV, health, visual art, business, youth and community sectors will be recognised.
CAMP Inc, otherwise known as the Campaign Against Moral Persecution, will be honoured with the prestigious ACON President's Award.
Founded in 1970 with the aim of educating the general Australian public about homosexuality and alleviating the isolation and poor mental health experienced by many lesbian and gay people at the time, CAMP Inc played an instrumental role in raising the visibility of lesbian and gay people in NSW, advocating for their rights, and supporting the mental health of the community.
Established by John Ware, Christabel Poll and their partners, CAMP Inc was responsible for initiatives that raised awareness of gay and lesbian people in the community including media interviews featuring gay and lesbian people, which at the time, were considered groundbreaking.
CAMP Inc also held the first homosexual demonstration in Australia, protesting on 6 October 1971 in support of Tom Hughes, a candidate for pre-selection who supported homosexual law reform. Further demonstrations in favour of law reform and tackling discrimination against homosexuals by psychiatrists, the church and others followed.
In April 1973, CAMP Inc established a telephone counselling service, Phone-a-Friend – which came to later dominate the group's work. By the early 1980s, it had become the core of the organisation's activities and a decision was taken to rename the group, the Gays Counselling Service. In 1990, following another name change, it became the Gay and Lesbian Counselling Service of NSW, and continues to operate today as part of Twenty10.
ACON President Dr Justin Koonin says CAMP Inc and its founders are worthy recipients of this special community service award. "Their contribution to our community has been literally life-saving and it's particularly timely to acknowledge their collective achievements given the huge progress towards equality our community has made over the past year," said Dr Koonin.
"The fact that the LGBTI community has been able to achieve as much as it has towards equality and rights in NSW is testament to their devotion and passion in improving the lives of our community. They were amongst some of the first pioneers for lesbian and gay rights in Australia and ACON is proud to be acknowledging their enormous contributions to our communities."
Foundation member of CAMP Inc and 78er Peter de Waal, AM, recalls the day CAMP Inc was brought to the attention of the Australian public, and its important legacy. "The 10th of September 1970 was a very significant day for Australian homosexuals. On this day Janet Hawley wrote in The Australian about the founding of CAMP Inc – the Campaign Against Moral Persecution – the first Australian national homosexual rights movement," said de Waal.
"John Ware, one of the founders of CAMP Inc, stated in the article, 'CAMP Inc hopes to get rid of the numerous misinterpretations about homosexuality by encouraging homosexuals to admit that they are, and to discuss it openly'. John's 'coming out' observation, nearly 50 years ago, is as relevant today as it was all those years ago.
"The naming of the first 1978 Sydney Mardi Gras came out of a CAMP Inc executive meeting," de Waal continued. "The precursor of the Gay and Lesbian Counselling Service – Phone-A-Friend – is a direct descendant of CAMP Inc."
Fellow CAMP Inc member and 78er Robyn Plaister said that having the work of early activists acknowledged and celebrated reminds us all just how far the LGBTI community has come. "Recognition by ACON of the work that CAMP Inc has covered is important for all of us who spent our early years fighting for the rights of both lesbians and gay men," said Plaister.
"Many rights that we take for granted now such as lesbian mother custody rights, adoption, fostering, teacher rights in public schools, taking homosexuality off the psychiatric illnesses list, and bringing partners to Australia from overseas were put in place due to the work of both female and male activists in CAMP over the years."
The ACON President's Award is bestowed to an individual, group or organisation whose community service has made a significant impact to the lives of people in LGBTI communities in NSW. Previous recipients include the HIV pioneers Professor David Cooper AC, Bill Bowtell AO, Bill Whittaker AM and Levinia Crooks AM, the NSW Parliamentary LGBTI Cross Party Working Group, and the staff and patients of St Vincent's Hospital's Ward 17 South.
Members of CAMP Inc will join key figures within the media, entertainment, community, government and other sectors, and over 350 guests at the inspirational awards ceremony and fabulous cocktail party. To be held on Wednesday 3 October at the Ivy Ballroom in Sydney, the Awards is also a gala fundraising event for ACON. For more information, visit: www.honourawards.com.au for details.
Image: Camp Inc. – photo courtesy of ACON