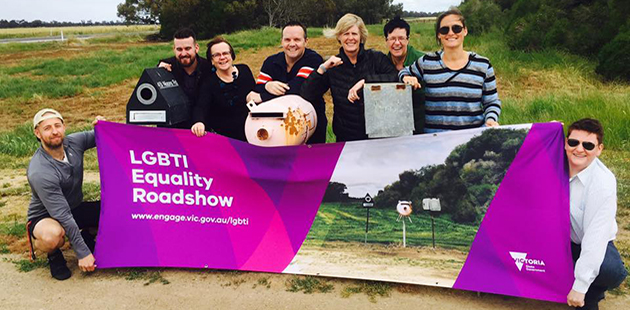 The Victorian Government's first ever statewide LGBTI Equality Roadshow has kicked off this week with visits to Swan Hill, Shepparton and Mildura. The Roadshow will work with local communities with the hope to reduce discrimination and promote the inclusion of LGBTI people in rural and regional life.
"Our roadshow is about sharing information and listening to the concerns of our LGBTI community living in regional Victoria, said Minister for Equality Martin Foley. "We will continue to work to create a Victoria that has a place for everyone – no matter your identity. As the Roadshow comes through your town, I encourage all community members to take part."
Victoria's Gender and Sexuality Commissioner Ro Allen will lead the Roadshow that will work with local communities, support organisations, stakeholders and allies to improve the lives of LGBTI people.
"I'm proud to be leading the Roadshow and engaging with local LGBTI communities, support organisations and allies to progress LGBTI inclusion and equality in regional areas," said Commissioner for Gender and Sexuality Ro Allen. "Community action plans to come from the Roadshow will help to shape new local conversations and partnerships."
The Roadshow will include workshops, roundtables, community dinners, performances, networking opportunities, stalls and community events. The discussions and visit to each destination will result in the development of a Community Action plan.
It will touch on a range of issues including the Government's equality and inclusion agenda, health and wellbeing, family violence and promoting programs that support equality. The Commissioner will also be gathering feedback from communities on what the Government can do to improve access to support and opportunities.
The Roadshow will travel through a further seventeen rural and regional communities from March to May 2017, spending 2 – 3 days in each location holding workshops, dinners, performances and community events. For more information, visit: www.engage.vic.gov.au/lgbti for details.
Image: Victoria's Gender and Sexuality Commissioner Ro Allen with members of the LGBTI Equality Roadshow