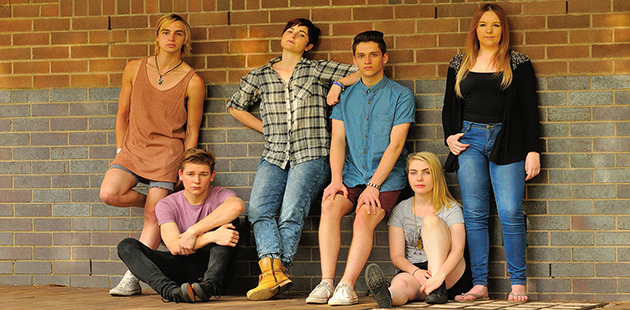 In a ground breaking first for Australian TV, a new drama series is in development featuring same sex attracted lead characters who are still at school. With more than one in five* Australian high school students not identifying as exclusively heterosexual, the time has come for Subject to Change.
Set in the working class suburb of Hedley, Subject to Change centres on the lives of three very close and unique friends: neat freak Ben, tomboy Karly and drama queen Evie.
Confronting the harsh difficulties faced in suburban Australia, Subject to Change follows these young adults as they deal with their complex and conflicting emotions. It will be a rocky, isolated road to love and inclusion through their final years of high school.
Executive Producer and Director Daniel Mercieca explains: "Subject to Change is a coming of age drama. We're setting it in a suburban Australian public high school, well outside the inner city comfort zone of rainbow flags and wear it purple days. It's going to be a rough, homophobic experience for young same sex attracted students."
A postproduction crowd-funding campaign launched this week has already received pledges for more than two thirds of the funding target with support coming from all around Australia, the US and even Denmark.
"The support we've received so far is amazing and very touching. There's definitely a burning desire to see this on television," said Mercieca.
Safe Schools Coalition Australia is a production supporter of Subject to Change. The fictional high school portrayed in Subject to Change is in the early stages of implementing its pledge to be a Safe School – aspiring to be free of homophobic and transphobic bullying and intolerance.
Episode 1 of Subject to Change will be screened at festivals next year as an independently produced short film. Series production is anticipated to bring it to Australian TV screens by late 2015. Australian TV veteran Di Smith is on board as Associate Producer "It's a lovely script. Our main cast rehearsed last week and really responded so well. The feel is Heartbreak High with a same sex bent."
For more information about Subject to Change, visit: www.subjecttochange.com.au for details.
Image: Cast of Subject to Change: JD Stone, James Ritchie, Maryann Wright, Aiden Debono, Katy Avery, Ashleigh Carmody – (supplied)
* National Survey of Australian Secondary Students and Sexual Health Report (2014), La Trobe University's Australian Research Centre in Sex, Health and Society.