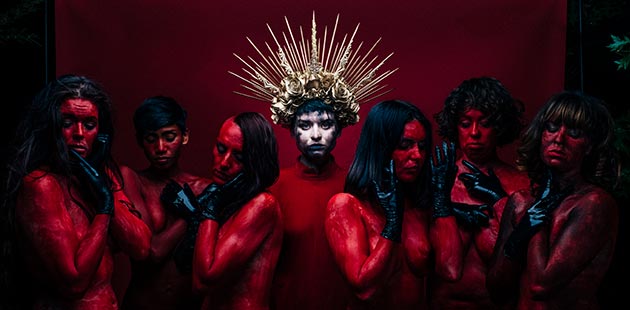 Promising to once again polarise and challenge, contemporary and experimental theatre company, The Danger Ensemble, return to Theatre Works this August following their hugely divisive 2018 production, The Hamlet Apocalypse, with their new work, Let Men Tremble.
Inspired by Nathaniel Hawthorne's 1850 historical novel, The Scarlet Letter – about a 17th century puritan romance, Let Men Tremble hurls colonial concepts of sin, sex, and the role of women in society into a modern day crucible.
A liturgical slut drop dripping with song, dance, and theatrical madness, Let Men Tremble is a rebellion. A revolt. A clarion call. It is a battle cry against the patriarchy, the church, and theatre itself.
"When the #MeToo movement broke there was a lot of talk on social media and how Arthur Miller's The Crucible was a perfect play for this moment and I thoroughly disagreed.", explains Director Steven Mitchell Wright. "It got me to thinking about The Scarlet Letter."
"Let Men Tremble champions powerful, complicated and intelligent women and non-binary people at the centre of a new theatrical experience. It's ambitious. It's a huge team and there are so many new collaborators. The work is still surprising all of us and that's exciting when you're creating something original for audiences."
Lead by award-winning Director/Designer Steven Mitchell Wright, The Danger Ensemble invites Melbourne audiences this August to watch as they take a piece of seminal American literature and transform it into cuttingly contemporary Australian theatre.
The Danger Ensemble are an award-winning experimental theatre company. Pursuing an understanding of contemporary form and audiences, their work has stretched the gamut from reinvented classics Macbeth and The Wizard of Oz, to live-art experiments We Will Not Kiss Touch Frighten You in the Dark and CALIGULA, to punk-cabaret musical Who Killed Amanda Palmer and new works, Loco Maricon Amor and The Hamlet Apocalypse.
Director / Designer: Steven Mitchell Wright Featuring: Chris Beckey, Jane Cameron, Danny Carroll, Caroline Dunphy, Eidann Glover, Nicole Harvey, Alexandra Hines, Shamita Siva, Leo Thompson, Louise Woodward Lighting Designer: Ben Hughes
---
Let Men Tremble
Theatre Works, 14 Acland Street, St Kilda
Season: 15 – 25 August 2019 (preview: 14 August)
Bookings: www.theatreworks.org.au
For more information, visit: www.dangerensemble.com for details.
Image: Let Men Tremble – photo by Morgan Roberts / graphic design by Sean Dowling