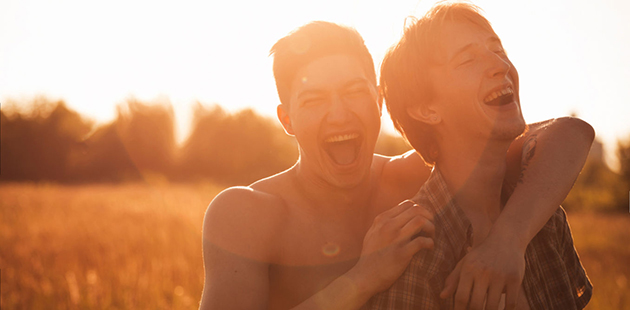 Australia remains the only English-speaking country in the developed world not to legally recognise same-sex marriage. If the upcoming postal survey indicates public support for marriage equality, a conscience vote will be held in parliament. If not, it's unlikely that same-sex couples will be able to marry for as long as the current government remains in office.
---
Further information – Mathias Cormann on the same-sex marriage postal survey
---
This would be quite a harmful outcome for the health of same-sex attracted couples, who are already at higher risk of poorer mental health outcomes and suicide than their heterosexual counterparts. This is directly associated with the stigma and discrimination to which they are exposed on a daily basis.
Research shows that in countries and jurisdictions that have legalised same-sex marriage, there is a much smaller gap between the rates of poor mental health among same-sex attracted and heterosexual people. This is particularly the case with young people, for whom suicide rates have a been a significant national concern for decades.
Just this week, a national study by the Australian Institute of Family Studies found that 10% of 14-15-year-olds reported that they had self-harmed in the previous 12 months, and 5% had attempted suicide. Legalising same-sex marriage will go a way towards lowering suicide rates in this group, as well as across the board.
Negative health impacts where same-sex marriage is banned
Young same-sex attracted people in particular already experience feelings of social discrimination, which could increase if same-sex marriage is not legalised. Same-sex-attracted young people are roughly twice as likely to be diagnosed with a mental health disorder, more than six times more likely to have thoughts of suicide, and five times more likely to make a suicide attempt than their heterosexual peers.
These inequalities are exacerbated in jurisdictions that do not support same sex marriage and where discrimination is therefore institutionally endorsed.
---
Read more: Why do so many gay and bisexual men die from suicide?
---
For example, a US study found that psychiatric disorders such as mood and anxiety disorders, as well as problems with alcohol, increased significantly among same-sex-attracted people who lived in states that banned gay marriage during the 2004 and 2005 elections. There was no such increase among people living in states without such constitutional amendments, or among heterosexual people living in those same communities.
Another US study found that sexual minority people (whose sexual identity, orientation or practices differ from the majority) living in communities that were highly prejudiced against them showed substantially elevated rates of both physical and mental illness, as well suicide. It also showed the average age of suicide among sexual minority individuals was significantly younger in these "high-prejudice" communities when compared to other areas.
Health benefits where same-sex marriage is legalised
Such inequalities – between the mental health of homosexual and heterosexual people – do not necessarily exist when same-sex couples are afforded the same rights with regard to institutionally recognised marriage. This finding persists among middle-aged men and young people.
In Denmark same-sex married men experienced a reduction in rates of premature death after the implementation of a registered partnerships law in 1989. Similarly, in the United States, implementation of same-sex marriage policies has been associated with a 7% relative reduction in the proportion of high school students attempting suicide. The association was strongest among sexual minority students.
Based on figures from the Second Australian Child and Adolescent Survey of Mental Health and Wellbeing this would equate to almost 3,000 fewer suicide attempts made by Australian secondary school students per year. These benefits are not necessarily attributed to marriage per se, but rather the legal right to marry. They are also not restricted to mental health, but have also been reported in terms of financial factors, physical health and health care costs.
The likely effects of a 'no campaign'
A small number of studies have also examined the impact of plebiscites and their associated "no campaigns" on the mental health and well-being of communities. These consistently report that exposure to repeated negative messaging about same-sex marriage creates a unique form of social stress resulting in poorer psychological outcomes.
---
Read more: Did the suicide rate decrease during Ireland's referendum on same-sex marriage?
---
While the specific impact of these campaigns on suicide related outcomes remains unknown for the time being, the relationship between minority stress, mental illness and suicide is well established. It is therefore likely that risk will increase throughout this process. Indeed, mental health and crisis support services are already reporting an increase in the rate of contacts, an increase that has been attributed to the debate currently underway.
The Australian government has given a significant amount of attention and resource to the treatment of mental ill-health and prevention of suicide, including among young people, over recent years. Yet, the institutional inequalities and the already toxic debate currently underway (despite assurances on the part of government that any debate will be respectful) will undoubtedly increase the risk of both. This risk needs to be taken extremely seriously over the coming months.
---
Legalising same-sex marriage will help reduce high rates of suicide among young people in Australia
Jo Robinson, Senior Research Fellow, Orygen, The National Centre of Excellence in Youth Mental Health, University of Melbourne; Eleanor Bailey, Research Assistant, Orygen, the National Centre of Excellence in Youth Mental Health, University of Melbourne, and Pat McGorry, Professor of Psychiatry, University of Melbourne
This article was originally published on The Conversation. Read the original article.
Note: If this article has raised issues for you or if you're concerned about someone you know, call Lifeline on 13 11 44.