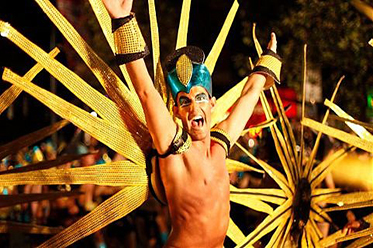 The annual Sydney Gay & Lesbian Mardi Gras Parade is one of Sydney's biggest and most glamorous spectacles. Each year tens of thousands line the streets of Sydney, wearing their most fabulous outfits – complete with dancing shoes, of course – to gaze upon the spectacular floats, marching groups, dancers, bikes and people of every colour of the rainbow.
To help the Parade's biggest fans and supporters beat the crowds and get the best seat in the house on Saturday 1st March, Mardi Gras are offering two fabulous new parade viewing areas, The Diamond Club and The Flinders Seats, ensuring those in the mood for creature comforts can leave their milk crates at home and not miss one sequin, one sparkle, one dance move or scantily dressed float goer.
Spectators will be able to enjoy the visual seduction of the Parade on their own terms. Whether they want to be right in the middle of the action, rubbing shoulders with the VIPs, or relaxing in a seat with a great view of every inch of the parade, Mardi Gras has their supporters covered.
"We really wanted to make viewing the parade more accessible to the many people who want to experience all the night has to offer, without having to navigate the crowds," says Mardi Gras CEO, Michael Rolik.
"We feel the new viewing experiences we are creating will greatly enhance people's enjoyment of the magical Mardi Gras Parade."
Formerly known as Club Tropicana, The Diamond Club – will have an outdoor club-style experience right in the heart of the action at Taylor Square. Complete with cocktail bars, DJs, easy access to bathrooms and the chance to rub shoulders with stars and VIPs, you never know who you'll meet in this buzzing precinct.
And most importantly – it's the best place to watch every show-stopping moment of the spectacular parade, with a premium view of Taylor Square where the floats stop for their big "show" moments.
For families, and those wanting to experience the Parade from a seat, the grandstand seating at The Flinders Seats is the best and most affordable option! This year organisers have moved what used to be known as The Glamstand, to a new, more central and accessible location on Flinders Street. It's a fantastic option for those looking for that great unobstructed view, while being close to the action – Grand Prix-style!
Included in the ticket price for The Flinders Seats is a ride from Central Station to the Parade route, easy access to toilets, food, drinks, a great view, and video screens. That way audience members won't miss any of the cheeky, bold and hilarious commentary that Mardi Gras is famous for, while they soak up the animated, lively and family friendly surroundings.
Tickets for the Parade viewing areas go on sale this Monday 23 December at midday. For more information and ticketing details, visit: www.mardigras.org.au for details.
Image: courtesy of Sydney Gay & Lesbian Mardi Gras