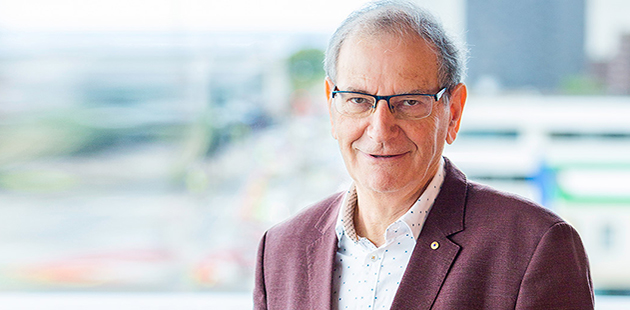 The ground-breaking work of HIV researcher, Scientia Professor David Cooper AO, and global research organisation, The Kirby Institute, will be recognised with a special accolade at the 2017 Honour Awards.
Now in its 11th year, the Honour Awards is an annual event which celebrates outstanding service to, and achievements within, NSW's LGBTI community. Thirty finalists across eight categories covering the arts, media, health, visual art, business, youth and community sectors will be recognised. Professor Cooper and The Kirby Institute will be honoured with the prestigious ACON President's Award.
Established in 1986 in response to the emerging HIV/AIDS epidemic, The Kirby Institute's world-leading research has played an instrumental role in how NSW – and Australia – became renowned for world's best HIV/AIDS policy and health practice. Later it broadened its work to contribute to knowledge on a broad range of diseases, including viral hepatitis and sexually transmissible infections (STIs).
Since its establishment, The Kirby Institute has been led by Professor Cooper who, as director, has overseen and guided crucial research into the HIV/AIDS epidemic, with the ultimate aim of reducing the burden of HIV/AIDS for affected communities.
Through Professor Cooper's leadership, The Kirby Institute has led national epidemiology and surveillance of HIV/AIDS, viral hepatitis and STIs, including the co-ordination and conduct of clinical trials of innovative therapies and vaccines for HIV, as well as other related clinical research.
Professor Cooper is also a consultant physician to the HIV/immunology infectious diseases clinical services unit at St Vincent's Hospital in Sydney, and is internationally renowned as being a leading HIV clinician and clinical investigator. Throughout his career, Professor Cooper has also been the President of the International AIDS Society and past Chairman of the World Health Organisation-UNAIDS HIV Vaccine Advisory Committee.
ACON President Dr Justin Koonin says Professor Cooper and The Kirby Institute are worthy recipients of the special community service award. "Their contribution to our community has been literally life-changing and it's particularly timely to acknowledge their collective achievements given the record low rates of new HIV infections we're experiencing in NSW, and declines we expect to see in other states," said Dr Koonin.
"The important health outcomes they have helped achieve are testament to their devotion and passion in improving the lives of LGBTI people and their families. They set the gold standard as to how the global community should implement and conduct research and ACON is proud to be acknowledging their enormous contributions to our communities."
Professor Cooper acknowledged the close working relationship The Kirby Institute has had with ACON, resulting in fundamental positive shifts in health outcomes for everyone within the LGBTI community.
"I am very thankful to Dr Justin Koonin and all at ACON for this generous recognition of the work of the Kirby Institute over the past 30 years," said Professor Cooper. "Since the beginning of the HIV epidemic in Australia, ACON and The Kirby Institute have worked in close partnership in the fight against HIV, through extremely dark periods for the LGBTI community,"
"It is truly remarkable that now, just over 30 years since HIV first devastated the community, our two organisations are working together to legitimately end HIV transmission in NSW by 2020. This work has brought me very close to many dear friends at ACON, as well as the communities they work closely with, and it means a great deal to me personally to have received this recognition."
The ACON President's Award is bestowed to an individual, group or organisation whose community service has made a significant impact to the lives of people in LGBTI communities in NSW. Previous recipients include the HIV pioneers Bill Bowtell, Bill Whittaker and Levinia Crooks, the NSW Parliamentary LGBTI Cross Party Working Group, and the staff and patients of St Vincent's Hospital's Ward 17 South.
The 2017 Honour Awards Ceremony & Cocktail Party will take place on Wednesday 27 September at the Ivy Ballroom, Sydney. For more information, visit: www.honourawards.com.au for details.
Image: Professor David Cooper AO (supplied)