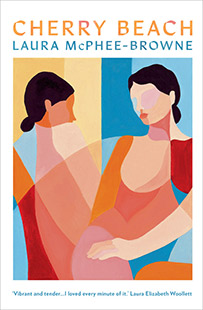 Beautifully written and intimate, Laura McPhee-Browne's Cherry Beach is a revelatory story of friendship and desire.
Hetty and Ness, best friends since childhood, have left suburban Melbourne for the first time to live abroad. Hetty is charming and captivating, the life of the party. Ness is a wallflower, hopelessly in love with her.
In the student quarter of Toronto, the pair take a room in a share house full of self-assured creatives. Hetty disappears into barkeeping work and a whirlwind nightlife, while Ness drifts aimlessly.
But when Ness finds Faith one day in the art gallery, an intense affair develops. There are new friends, too, and a job: at last her life starts to make some sense.
And Hetty's starts spectacularly to fall apart, in a mess of bad drugs and bad men.
As winter freezes the lakeside city, the dark undercurrents of Hetty's character – abusive relationships, a dangerous obsession with bodies of water – become ever stronger. Ness may lose the person she loves more than anyone else in the world.
---
Laura McPhee-Browne is a writer and social worker living in Melbourne, on Wurundjeri land. Her short stories have been published widely in Australia. Laura also volunteers as a fiction editor for the literary magazine Verity La. Cherry Beach is her first novel.
---
Cherry Beach is published by Text Publishing and available from all leading book sellers including Dymocks.
Image: Cherry Beach – courtesy of Text Publishing