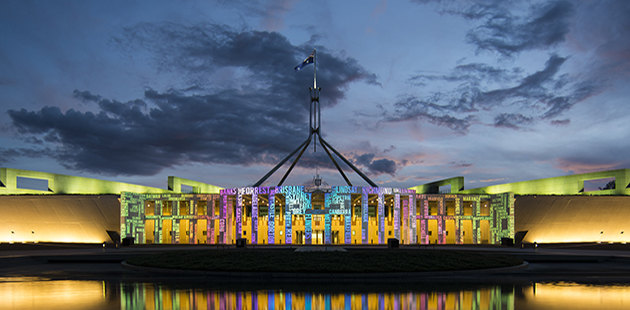 Advocates have welcomed a new poll showing Australians support marriage equality, support a parliamentary free vote on the issue and are concerned a plebiscite may result in anti-gay hate speech and abuse.
A survey completed by Essential Media shows similar results to the surveys done by PFLAG that 60% of people of Australia are strongly in favour of marriage equality, 68% are strongly against public funding for the Yes and No campaigns and 70% are strongly concerned about hate speech and the negative impact it may have on LGBTI people and the community generally.
"I cannot understand why Mr Turnbull and his Government are intent on a wasteful, non binding plebiscite that only benefits the nay sayers and their negative campaign," said PFLAG National Spokesperson Shelley Argent. "An increase of nastiness and divisiveness on both sides of the debate has already started on social media."
"Mr Turnbull needs to recognise that a plebiscite, should it be called, will not be respectful. Additionally, we call on Mr Shorten, Leader of the Opposition to stand by his word and block the proposed legislation in the Senate."
It should be noted, a survey initiated by PFLAG in July showed that of the 5500 LGBTI people surveyed 85% definitely do not want a Plebiscite, and 65% would prefer to wait for a new government or for Mr Turnbull to have a change of heart and allow a Free Vote. Attorney General, George Brandis stated late last week that he knew that 70% of Australians were in favour of marriage equality, so he believed the Plebiscite would easily win.
However, the Government is still prepared to waste $160+ million dollars and put unnecessary stress and anxiety on LGBTI people and their families. Meanwhile, LGBTI people's rights continue to be withheld because of a right wing minority group will never change their minds or understand the feeling of being considered second rate.
It is time for Mr Turnbull to stand up, show leadership and make it clear to Abetz & Co that they are not leading this country, he is. If Mr Turnbull wants to be remembered as a Leader of worth he needs to do what he knows is right.
Spokesperson for LGBTI advocacy group just.equal, Ivan Hinton-Teoh said many LGBTI people will take heart that more Australians than not share their concerns about hate campaigns. "As Malcolm Turnbull says, a majority of Australians are sensible, fair-minded people. It is precisely these qualities that lead us to share a deep concern with a plebiscite."