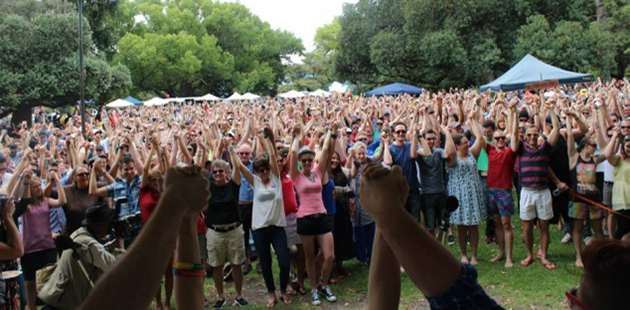 Large crowds are expected to descend on the picturesque Hyde Park, in the heart of the City of Vincent on Sunday 15 February, as Pride WA holds its annual Fairday for Perth's GLBTI community.
Featuring live entertainment, heaps of great stalls, delicious food options, a play area for the kiddies and the much loved dog show, the award-winning Fairday will be the community's favourite day of the year.
The ever-popular community stalls will feature a selection of community groups handing out information specifically aimed at the Pride community as well as a range of great local retailers and a fantastic selection of food vendors including fabulous Smoult's Continental Deli food hampers.
US megastar, transgender actress, activist and global LGBTI cultural icon Calpernia Addams will feature in an impressive Fairday entertainment line-up. PrideWA President Michelle Rigg said, "It is incredibly exciting to have such a high-profile star joining our program."
Hosted by the fabulous Fab Panache, other Main Stage performances include Odette Mercy and Her Soul Atomics, as well as a plethora of local artists including Toby, Cosmic Drama, DJ Curlee, DJ Rob Blandford, and the Ladies of Connections.
This year and a first for Fairday, the addition of an Acoustic Stage will feature talented local singer-songwriters from the LGBTIQ and wider community including Ruby May, Lee Williams, Kirsten Smith, Wanderlust, Indigo Milne-Grogan and Mia Simonette. Children's entertainment will include face painting, glitter faeries and Arty Brellas.
Fairday is an all ages event, which is free to members and children under 16.  Entry is $5 for everybody else. You can join Pride WA on the day and get free entry. Alcohol will not be on sale, you can BYO if you drink responsibly!
The 2015 Pride WA Fairday will be held on Sunday 15 February: 11.00am – 6.00pm For more information, visit: www.pridewa.com.au for details.
Image: part of the large crowd at the 2014 Fairday – courtesy of Pride WA