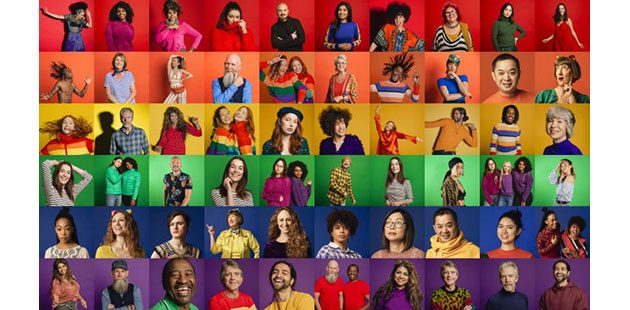 Non-profit community support service, Advance Diversity Services, has been recognised as Australia's Service Provider of the Year in the 2020 Health + Wellbeing Equality Index (HWEI), an annual tool that benchmarks LGBTQ inclusive service provision amongst organisations in the health, human services and wellbeing sectors.
Now in its second year, the HWEI is Australia's only instrument for health and wellbeing organisations that provides opportunity to assess, measure and improve their practices to better include sexuality and gender diverse people within their services.
This free national index is administered by Pride in Health + Wellbeing, a national program that provides support, training and guidance in LGBTQ inclusive service delivery. Pride in Health + Wellbeing is part of Pride Inclusion Programs, a suite of social inclusion initiatives delivered by Australia's leading LGBTQ health organisation, ACON.
Claire Allen, National Program Manager of Pride in Health + Wellbeing, said the HWEI is an important resource for health and wellbeing service providers across Australia.
"With significant health disparities between sexuality and gender diverse people and the wider population, and barriers many LGBTQ people experience in accessing important and critical health services, such as perceived or previously experienced stigma, discrimination, harassment or refusal of service, this index is an fundamental tool for service providers as they seek to be more inclusive of all Australians," said Allen.
"As with the first HWEI, this year we have seen organisations of all sizes take part from various parts of the health and human services sector. We have also seen quite a variety of service types represented as well with organisations covering mental health, aged care, domestic and family violence and disability support services. This underscored the relevance and need for this index within this sector, to ensure person-centred, trauma informed best practice inclusion."
Kate Spurway, CEO of NurseWatch, a foundational member of Pride in Health + Wellbeing, said: "With Pride in Health + Wellbeing and the HWEI's help, we ensured our service delivery met the needs of our LGBTQ clients, that our staff were trained, and that the full lifecycle of client engagement was truly inclusive. In 2020, we also were successful in obtaining our Rainbow Tick."
"Together, this has ensured NurseWatch has the systems and processes in place to provide inclusive service delivery, and that we are responsive and understanding of the needs of everyone we come in contact with," said Ms Spurway.
Commenting on progress made by health services one year on from the first HWEI, Allen said: "This year we have seen a jump in the standard of the benchmark with the average scores jumping by over 40%. This shows not only a maturity within the sector but also the stellar effort many of these organisations have put into becoming truly inclusive of sexuality and gender diverse people."
"This is especially impressive given the natural disasters at the beginning of the year, bushfire, floods and the coronavirus, which directly impacted most of our members as direct care providers and first responders. The fact that we received submissions while they were responding to these community crisis shows their deep commitment to inclusion, and an ability to prioritise priority populations.
"The release of this year's HWEI submissions and resulting benchmarking publication gives us an insight into the amazing breadth of work being done by so many in making health service providers across Australia more inclusive of LGBTQ people and communities. I congratulate all of them on their significant achievements and for showing great leadership in inclusion," said Ms Allen.
For more information about the Health + Wellbeing Equality Index, the benchmarking publication and Pride Inclusion Programs, visit: www.prideinhealth.com.au or www.prideinclusionprograms.com.au for details.
The 2020 HWEI was sponsored by NurseWatch – a boutique private nursing service in Sydney who provides tailored care to LGBTQ communities through their LGBTI Concierge service. For more information, visit www.nursewatch.com.au for details.