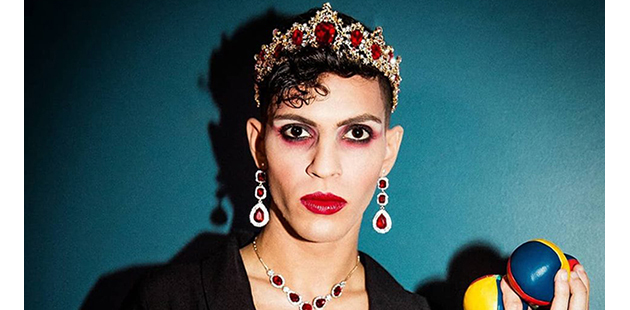 Cleo and the Kweens – a Sydney based Queer comedy collective are launching a new, inclusive night of comedy at Oxford Street's iconic venue, Ginger's at the Oxford Hotel from Thursday 18 April 2019.
Kweens of Comedy is a unique night that is not only Queer produced but provides a space for all forms of comedy, an opportunity that is very limited in Sydney's current comedy scene. The show will provide a safe space for LGBT+ comedians to perform but performers of all genders and sexualities are welcome!
"Kweens of Comedy is focussed on celebrating queerness in not just the individuals that perform but also the type of acts they have. Whether it's clowning, drag, storytelling etc. there are very few opportunities for artists to perform their acts," said Queer comedian and producer of the show, Cleo. "There are some amazing established and emerging LGBT+ comedians but very limited opportunities where individuals know they can perform in and be accepted for who they are."
"As a Queer comedian, I have experienced and understand the fear that is felt in the lead up to performing and adding my ethnicity to the equation can intensify these feelings. I have committed myself to provide platforms for others like me to perform without judgement and to simply focus on their performance, which is novelty rarely afforded."
Kweens of Comedy will be the second regular Queer comedy show produced by the collective. Dungeons & Drag Kweens – a monthly, Queer storytelling show (and podcast) based on the popular role-playing game Dungeons & Dragons has been a regular feature at Erskineville's Imperial Hotel since May 2018.
"The show has a dedicated following and proves that there are audiences and demand for regular Queer-produced comedy nights," said Cleo. The show attracts audiences that don't resonate with the clubbing/drinking events that are usually associated with LGBT+ entertainment. This atmosphere of a welcoming space for all is something that is a primary focus for our new show – Kweens of Comedy."
---
Kweens of Comedy
Ginger's at the Oxford Hotel, 1/134 Oxford Street, Darlinghurst
Event from Thursday 18 April 2019
Bookings: www.humanitix.com.au
For more information, visit: www.thekweens.com.au for details.
Image: Cleo and the Kweens – photo by Teresa Pham