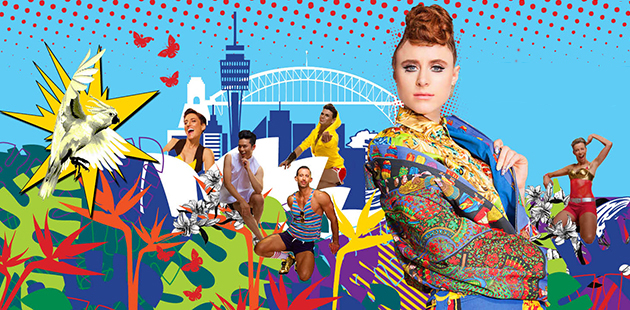 Get ready to lock in a date with a multi-talented pop star, Kiesza at the 2015 Harbour Party on Saturday 28 February. The chart-topping Hideaway singer will be headlining the party with a specially-produced live performance with backing dancers and all the high energy her fans know and love.
Kiesza's upbeat dance anthems are sure to take the party to the next level and have you dancing with joy amidst a heaving crowd of thousands of fellow revellers – all out in the fresh air next to Sydney's stunning harbour.
The expressive Canadian vocalist adds even more fire to the Harbour Party line-up, which includes: Bimbo Jones fronted by Lee Dagger (UK), DJ Kitty Glitter (Australia), DJ Dan Murphy (Australia), and DJ Du Jour (Australia).
Harbour Party is a friendly, inclusive, uplifting, boutique dance party for LGBTQI and their friends. The Sydney Gay and Lesbian Mardi Gras team has listened to feedback from their passionate party-goers and they are ready to deliver. The stage has been repositioned to maximise the view of the stunning harbour and to ensure no sound gets lost in the crowd – as for the incredible line-up, that just speaks for itself.
"Kiesza is really going to amp up Harbour Party '15, adding a lot of high energy in her live show to an already energetic roll call of artists," said Sydney Gay and Lesbian Mardi Gras CEO, Michael Rolik.
"Harbour Party is a truly spectacular event, and a highlight of Mardi Gras every year. The 2015 edition is definitely going to be an unforgettable celebration."
Diverse, sexy and bursting with energy, there are few parties quite like the Harbour Party. Set in the lush surrounds of the Royal Botanic Gardens alongside the most beautiful harbour in the world. Sip cocktails at the cocktail bar as the sun sets and the lights of the city shimmer over the water.
Then dance the night away in the open-air setting with 3,000 of your new best friends. Don't miss out on this joyous, loud and proud, hands in the air affair.
Harbour Party takes place on Saturday 28 February 2015. For more information and ticket details, visit: www.mardigras.org.au.
Image: courtesy of Sydney Gay and Lesbian Mardi Gras