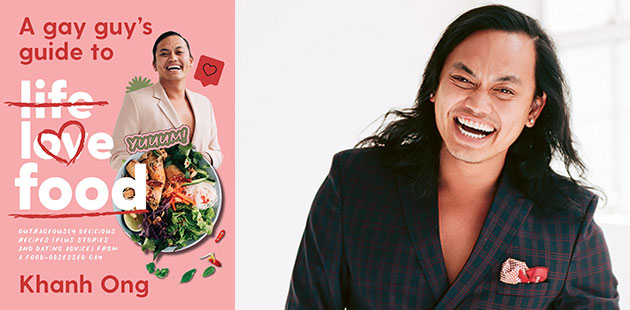 Join MasterChef favourite and resident gay guy Khanh Ong as he helps you rediscover how food can make you feel, how it brings friends and family together and how it helps reconnect. With more than 70 recipes and charming anecdotes about life, love, family and dating, A Gay Guy's Guide To Life Love Food is an explosion of fashion-led fun and influence, delicious food and Khanh's distinctive tongue-in-cheek humour.
---
Extract:
It's 2020 and for some reason people are scared to go on a date. I'm not talking catch-ups, drinks or Netflix and chill. I'm talking, "Hey, I'm into you and I would like to take you out, make you dinner or go kayaking." (don't knock it till you try it). The last couple of years for me has been about making my intentions clear. I go into every date thinking, "Could this man be my future partner?" I know it sounds intense but we are all thinking it; if you're not then why waste your time?
Dating for me has always been very old school. I'm a hopeless romantic who believes in happily-ever-after and soulmates (even though I feel like soulmates and lovers are very different things). Nothing makes me happier than cooking or being cooked for on a date, it gives you time to talk and have a wine while making a delicious meal. It's also great because you don't need to worry about starting convos – I feel like there's always something to talk about over food.
Sustainable dating is just that – easy dishes that look impressive AF, are yum and leave time for you to get to know the person you're with. Some of these recipes actually come from things I've cooked for a partner or love interest. This chapter is sexy, moody and just the right amount of fancy. It ranges from first-date dishes to couch-date bowls, morning-after-date brunches and sweets for your sweetie.
The chapters in this book are like little babies for me an know you're not supposed to have favourites, but I have a love for this chapter that is different from the others. For me, this is a rollercoaster of emotions, with dishes that remind me of the great times and also dishes that remind me of the exes I made them for. If you're cooking for a potential someone special or long-term partner, this is the chapter for you!
---
Vegan Rainbow Rice Paper Rolls:
Interactive foods are my favourite. Think tacos, grazing platters and hotpots. Rice paper rolls, I feel, are another dish everyone needs to add to their DIY repertoire. Super healthy, simple and fun, also perfect to pre-roll and pack away for lunch the next day. I sometimes make them, slice them up and serve them as canapes, too. If you're having these for dinner, put all the ingredients out on your table with a bowl of hot water and roll as you go. The secret to a truly great rice paper roll is to load them up with herbs. Don't rip a single mint leaf into pieces, throw four whole leaves in you – want that punch of flavour to the face.
Ingredients:
8 rice paper sheets; 1 carrot, grated; ½ avocado, cut into strips; 150 g cooked vermicelli noodles; ¼ red cabbage, finely sliced; 250 g firm tofu, sliced into 8 strips; 1 cucumber, cut into matchsticks; ½ bunch of Vietnamese mint, leaves picked; and ½ bunch of mint, leaves picked.
Peanut Dipping Sauce:
3 tablespoons peanut butter; 3 tablespoons light soy sauce; 2 tablespoons sriracha chilli sauce; juice and zest of 1 lime; 1 tablespoon hoisin sauce; and 2 tablespoons crushed Salted Peanuts.
Recipe:
To make the dipping sauce, just pop all the ingredients in a mixing bowl and whisk until combined. Pour into two little dipping bowls (so you don't have to share) to serve with the rice paper rolls.
To assemble, dip a sheet of rice paper in hot water to soften and then place on a plate. Pop a little line of carrot horizontally near the middle of the rice paper (a bit closer to you than the middle). Top with a strip of avocado, then some noodles, cabbage, tofu, cucumber and herbs. Now to roll, fold in the sides of the rice paper so the ingredients fit snugly, then, starting from the edge closest to you, roll it tightly all the way up. Dip in the sauce and eat and repeat.
---
About Khanh:
Khanh Ong has a passion for Asian flavours, and with his infectious smile, cheeky sense of humour and captivating story, he quickly became a MasterChef season 10 fan favourite. Khanh was born in an Indonesian refugee camp to Vietnamese parents and grew up in the suburbs of Melbourne, and family and heritage have always influenced the way he cooks.
Khanh is an accomplished DJ and has studied fashion design and worked as a stylist. He is currently at the George on Collins in Melbourne, where he has revamped the menu and created a space where food is not just eaten, but experienced.
---
A Gay Guy's Guide To Life Love Food is published by Pan Macmillan Australia and available from all leading book sellers including Dymocks. Extract and Recipe republished with kind permission of Pan Macmillan Australia.
Image: A Gay Guy's Guide To Life Love Food and Khanh Ong – courtesy of Pan Macmillan Australia