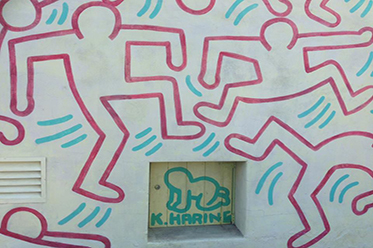 A fading art treasure, a radiant baby anonymously returns, and a world renowned art figure…the story of Collingwood's newly restored Keith Haring mural is as lively as the work itself.
Keith Haring (1958-1990) was a widely popular American artist and social activist who is often credited with bringing street art into the mainstream.
In 1984, as his star was on the rise internationally, he visited Australia where he undertook art projects in Sydney and Melbourne including a large scale outdoor mural at what was then the Collingwood Technical School.
Three decades later, the school is a memory but the mural has become an icon for both the local community and broader national and international arts community.
As well as his art, Haring was renowned as an important social activist of the time, in particular for his work raising money and awareness for many social justice issues including rights for the LGBTI community and AIDS awareness.
The Collingwood mural is now one of only 31 known murals across the world by Haring that have survived and one of only three that hasn't been significantly over-painted. In recognition of its local, national and international significance, it was added to the Victorian Heritage Register in 2004.
In 2010 Arts Victoria established a project to restore the mural, which had been left to deteriorate over many years. Renowned Italian conservator Antonio Rava led the project which involved cleaning the mural, restoring lost paint and render and the creation of a public viewing area.
While the formal process was underway, Arts Victoria continued to consult with a range of stakeholders who were part of the mural story. This led to the signature piece of the mural – a wooden door located at the bottom mural being returned anonymously to the Arts Victoria office in 2013.
For more information about the Keith Haring mural, click here!
Image: by John Hall (courtesy of the Victorian AIDS Council)