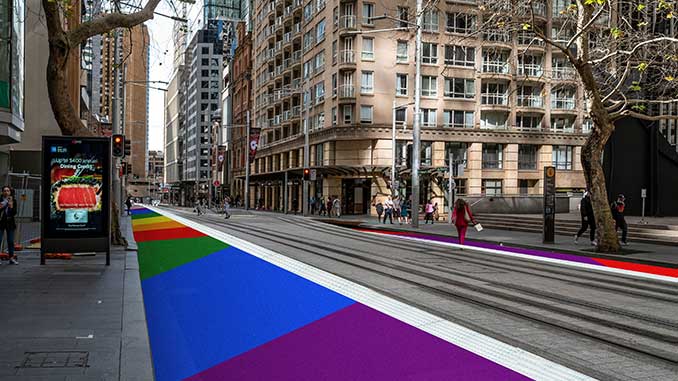 George Street north will be transformed into a giant LGBTIQA+ Pride flag in the next stage of plans to pedestrianise the northern end of the city.
Installation of the flag will begin on 9 January, when high-quality road marking paint will turn grey into red, orange, yellow, green, blue, violet, black, brown, white and pink. Colour-coordinated seating will also be put in place as part of the works.
Lord Mayor Clover Moore said the rainbow artwork was part of the preparation ahead of Sydney WorldPride, which begins in February.
"We are bringing a kaleidoscope of colour to the heart of the city as we celebrate diversity, inclusion and tolerance," said the Lord Mayor.
"Our ongoing transformation of George Street north not only brings to life our vision of a reimagined city centre but also reflects the values of the City of Sydney."
The George Street works are the next stage in the City of Sydney's long-held plan for a fully pedestrianised George Street, linking three future town squares: Central, Town Hall and Circular Quay.
It follows the 2020 transformation of George Street south, which is now a stunning pedestrian boulevard that has given city space back to visitors, business owners and residents.
"George Street's transformation from a traffic-clogged arterial route to a destination in its own right is nothing short of remarkable," said the Lord Mayor.
The works will extend the boulevard along George Street north from Wynyard to Essex Street, creating an extra 5,900 sqm of new space for pedestrian activity.
The works mean  George Street between Hunter and Grosvenor streets will be closed from 9 January. The traffic rules that will be introduced include:
no access for vehicles along George Street between Hunter and Grosvenor streets
the George Street intersections at Hunter, Margaret, Bond, Jamison and Dalley streets will be closed
footpaths on Margaret Street between George and York streets will be extended
local access to properties will remain.
"We know our communities want public spaces that projects like this achieve and I am incredibly proud to be overseeing this transformation, which, once finished, will have reclaimed more than 20,000 sqm of former roadway between Central and Circular Quay," said the Lord Mayor.
---
The City of Sydney is continuing to work with businesses and other key stakeholders on the project to ensure disruption and the impact to residents and businesses is minimised. For more information, visit: www.cityofsydney.nsw.gov.au for details.
Image: Render of the George Street North Rainbow – courtesy of City of Sydney