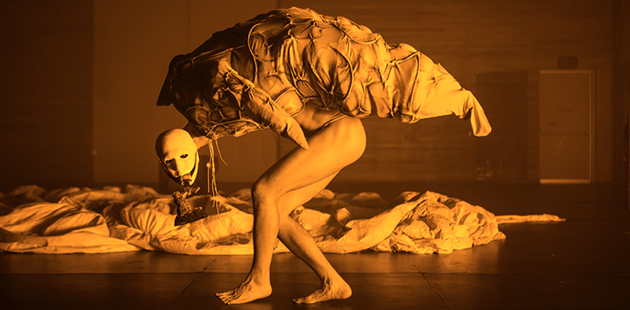 A hallucinogenic exploration of the relations between human, animal, machine and spirit, Arts House presents the Victorian premiere of Carrion by Justin Shoulder in a limited season from 27 June 2018.
What does it mean to be human, in a period when destruction on the planet is rapidly redefining the laws of nature? Melding flesh, costume and a robo-primordial aesthetic, Carrion is a stunning new solo performance by Justin Shoulder (V and The River Eats) that introduces the figure of Carrion – a shape-shifting, post-human spectre that speaks in multiple forms and languages.
Blurring the boundaries between animal, human and machine, Carrion draws on queer and ancestral mythologies and evokes a post-apocalyptic landscape rife with decay, where the human and the android have merged for survival. Darkly sensuous, dancerly and dreamlike, Carrion conceives an imaginary world that is hauntingly and brilliantly animate – it reveals new truths about simulation, consumption and worship in an age of excess and acceleration.
As an artist working in performance, sculpture, video and nightlife/community events production, Shoulder often focuses his practice to forge connections between queer, migrant, spiritual and intercultural experiences. Mesmerising and tender, elemental and fantastical, Carrion is a rite, a birth, a speculation – morphing the 'natural' in a unique vision of physical performance possibilities.
Shoulder is a founding member of queer artist collective The Glitter Militia and Club Ate (a gang of Asia-pacific sissies) and has performed and exhibited internationally, including most recently his collection of video works: Ex Nilalang for AsiaTOPA and First Sight at Museum Macan (Jakarta). Carrion recently received a Best Visual or Physical Theatre Production nomination in the 2018 Helpmann Awards.
"an allegorical space, a space of in-betweens and of fantastical proportions – in which critical questions about contemporary humanity present as vivid, amorphous emotions." – RealTime
Lead Artist: Justin Shoulder Mentor & Artistic Collaborator: Victoria Hunt Composer: Corin Ileto Costume & Set Designers: Matthew Stegh, Justin Shoulder Costume & Set Design Assistants: Anthony Aitch, Marty Jay Lighting Designer: Benjamin Cisterne Sound Mastering: Bob Scott Stage & Production Manager: Amber Silk Producer: Insite Arts
Carrion
Arts House, 521 Queensberry Street, North Melbourne
Season: 27 – 30 June 2018
Bookings: www.artshouse.com.au
For more information, visit: www.justinshoulder.com for details.
Image: Carrion – photo by Alex Davies