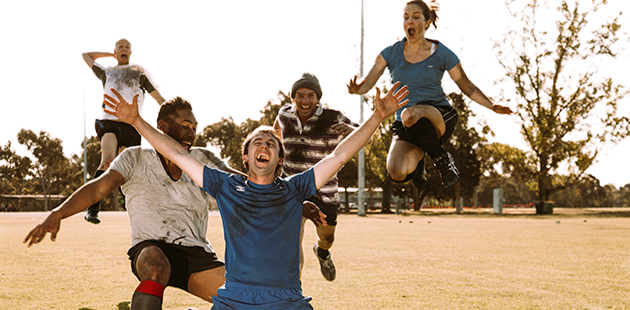 A blissfully funny romantic comedy about friendship, five-­a-­side and finding your way, Red Stitch presents the Australian Premiere of Tom Wells' Jumpers for Goalposts for a limited season from 19 November.
Meet team Barely Athletic – they're part of the gay, lesbian and transsexual football league in Hull. Luke wants Danny, but Danny has a secret. Joe is happy in goal but Geoff wants a headline gig. Viv just wants to beat the lesbians to the league title. This endearing and fumbling love story between two young gay men is uplifting and deeply affecting.
Confirming Wells' reputation as one of the UK's most outstanding young playwrights. Jumpers for Goalposts is fresh from a critically acclaimed season in London where it earned 5 star reviews from both The Independent and The Telegraph, which called Wells "a hugely engaging writer… what makes him so special is his gift of making the small change of everyday lives shine so brightly."
Speaking about the play, part of which was informed by a homophobic attack he experienced, Wells said "A lot of plays about gay people are about people in a bar, being hedonistic, not being supportive of each other, and that's not what my experience of being gay is like, it just isn't. What you write is the play you want to see in the world."
Wells' last show, The Kitchen Sink won him the most promising playwright prize at the Critics' Circle awards and a nomination for most promising playwright at the Evening Standard Awards. Red Stitch's 2012 hit production of The Kitchen Sink enjoyed exceptional critical acclaim, with The Australian calling it "an unalloyed triumph" and The Age describing it as "tender, laugh-­out-­loud funny and quite delightful."
Tom Healey makes a welcome return to Red Stitch, directing ensemble members Kate Cole (Grounded, Out Of The Water) and Johnathan Peck (2014 Red Stitch Graduate Actor, Eurydice). Healey's previous directing credits include Out (CDP/HotHouse), The Kid (Griffin Theatre), The Spook (Malthouse Theatre) and The Shape of Things (Red Stitch).
Director: Tom Healey  Featuring: Kate Cole, Johnathan Peck, Ray Chong Nee, Paul Denny, Rory Kelly  Set & Costume Designer: Jacob Battista  Lighting Designer: Clare Springett  Stage Manager: Rebekah Gibbs
Jumpers for Goalposts
Red Stitch Actors Theatre, Rear 2 Chapel Street, St Kilda East
Season: 19 November – 20 December 2014 / 19 – 25 January 2015
Bookings: (03) 9533 8083 or online at: www.redstitch.net
For more information, visit: www.redstitch.net for details.
Image: courtesy of Red Stitch Actors Theatre