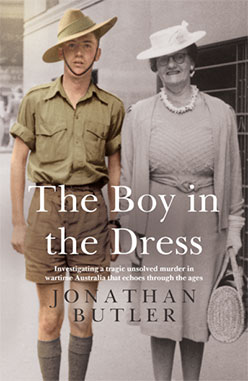 In The Boy in the Dress, Jonathan Butler investigates a tragic unsolved murder in wartime Australia that echoes through the ages.
On a balmy Townsville night in 1944, a young serviceman, Warwick Meale, is found murdered. The army and police do not, or will not, conduct a proper investigation and history forgets the killer – until now.
Nearly eighty years on, Warwick's descendant Jonathan Butler dusts off the case and chases the leads that were there all along.
The Boy in the Dress exhumes secrets of life on the home front during World War II, where tensions between soldiers boiled over, new expressions of sexuality flourished and the threat of invasion catapulted the status quo into disarray.
The truth of this family legend, and this little-known chapter in Australian military history, is more complex and engrossing than anyone could have imagined.
Jonathan Butler is a writer and content producer living in Naarm/Melbourne. He has been researching The Boy in the Dress for more than 10 years, a process which has ignited his passion for queer history. His work has appeared in The Guardian.
---
The Boy in the Dress is published by Affirm Press and available from all leading book retailers including Booktopia.
Image: The Boy in the Dress – courtesy of Affirm Press