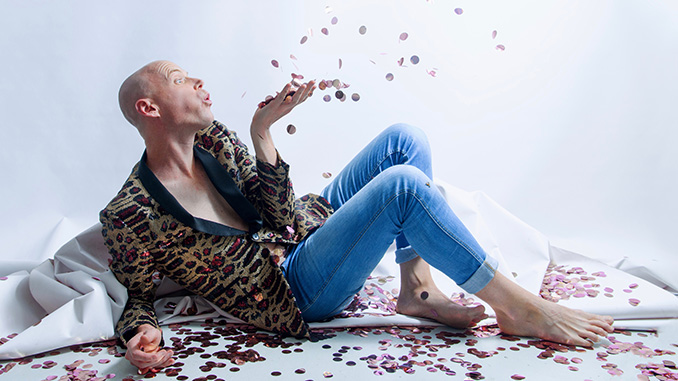 Ahead of presenting his show #VAL – A Campfire Kiki With Mother at the 2021 Adelaide Cabaret Festival​ this June, John O'Hara reflects on What does the role of 'mother' mean to the queer community?
It's a question I asked myself seriously around the time of the 2017 Australian marriage equality plebiscite. I was working abroad in Europe when news broke that our Australian government had announced a plebiscite around the 'issue'.
I was living my best European summer dreams by day, and performing in the musical Priscilla, Queen of the Desert by night aboard an impossibly large floating city that bobbed around the Mediterranean Sea called the Norwegian Epic.
I played the iconic Australian transgender role of Bernadette Basinger; the unofficial mother figure to both the other queer characters en-route to Alice Springs aboard Priscilla.
The irony and fabulous ridiculousness of playing a queer Australian woman in Europe on a bus, on a boat all produced and largely viewed by rich white Americans who at times told me my Australian accent was inaccurate, was wild.
I digress… I found myself angry, confused, emotional and hurt by the news that at home, people who had nothing to do with our community, and in some cases had little care for us, were now going to be given the opportunity to vote on the validity and worth of our relationships, our futures and frankly, our human rights.
We were about to be politicised and painted in the most horrendous of lights. We were marched into a cruel circus with no promise we would be rewarded for the show… and we were forced to fight.
I was ensconced in the European culture around me at the time, enjoying the history and beauty everywhere I looked. In many of the places I visited, marriage equality had been legalised some time ago. No one had gone to hell. The world had not blown up. Religion and tradition were alive and well. Why was Australia lagging?
I contacted my large extended family back in Australia via a group email sent from a local cafe in Barcelona on a lazy afternoon off, asking that they talk to me about any questions, queries or concerns around why it was so important to vote YES, for me but also for my queer brothers and sisters.
There was an overwhelming sense of support. There were also some questions. Some of those questions got confused and misconstrued. Feelings were hurt and tears were shed.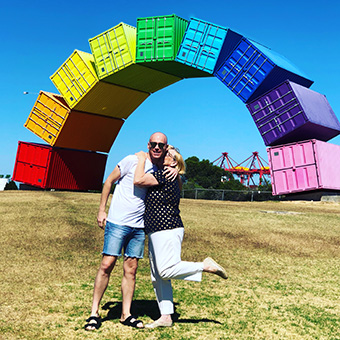 Through it all though, my mother (VAL) was like a fierce and fiery warrior woman. She leapt to my defence constantly, blindly, and lovingly, taking anyone to task who even nearly stood in my path on our quest to equality. She was so angry. It took my breath away. It still does.
It occurred to me that my mum had also walked and was continuing to walk an incredibly tough and layered path in having me as her son. It wasn't a path she expected to walk or had any experience in.
Mostly though, it became so clearly apparent to me that the role my mother played in my queer journey and existence was incredibly important and potent. She too had a story to tell.
Just because she doesn't identify as queer doesn't mean she doesn't have a queer reality. This also made me think about how special Val is to so many of my friends and chosen queer family.
Her house was a house that was safe and fun and silly. Her food, her wine and her hugs were for anyone I chose to bring through the door. She was and is a mother figure to many… kind of like Bernadette in Priscilla.
Their similarities within their own worlds made me smile. They are both deep, kind, layered, glamorous, camp and completely fabulous women. I'll never forget the night Val saw me play Bern, but that's a story for another time.
The role of 'mother' within the queer experience is vital. She appears in many forms. She can be biological, chosen or adopted. She can be a man, a friend, an auntie, and a grandparent. She can be a drag queen, a mentor, a lover, an icon and an elder.
Historically, it's common for any given queer community to create and choose a family out of necessity as much as desire. It's simple, it's beautiful and at times it's heartbreaking. Some people are lucky. I am lucky. Some people are not and so I share my mother with many.
She has well and truly earned her nickname, given to her by my best gays, #VAL… and so I wrote a show about mothers in her namesake. Whatever form 'mother' takes, I think she deserves to be celebrated… with pop songs, champagne and glitter!
See you 'round the camp-fire. Mother is waiting and she has stories to tell.
---
#VAL – A Campfire Kiki With Mother
Quartet Bar – Adelaide Festival Centre, King William Road, Adelaide
Season: 11 – 13 June 2021
Information and Bookings: www.adelaidecabaretfestival.com.au
Image: John O'Hara – photo by Sarah Walker