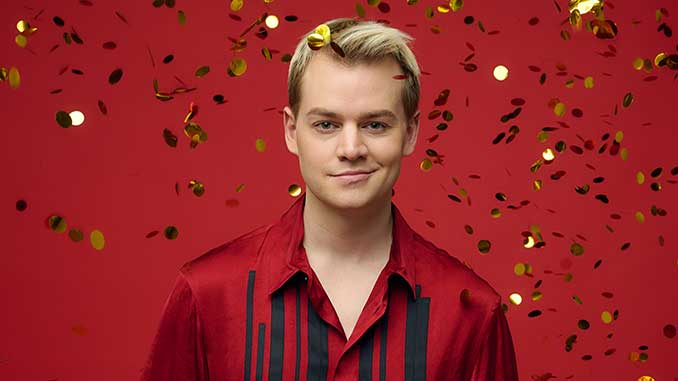 After triumphant seasons in 2023, and due to phenomenal demand, the 50th Anniversary world tour continues its global celebrations in honour of iconic Rock 'N' Roll musical The Rocky Horror Show in 2024.
This new Australian production will return to Melbourne's Athenaeum Theatre from 9 February starring Jason Donovan and joining him and the phenomenal cast as the Narrator will be none other than Joel Creasey!
The tour will also travel to Newcastle in January with Myf Warhurst starring as the Narrator and celebrate a return to Theatre Royal Sydney from March 31 with the Narrator still to be announced.
Joel Creasey is one of Australia's most popular, acclaimed and charmingly outrageous stand-up comedians, and radio and television presenters. His bold wit, sass and unrivalled story telling abilities undisputedly make him perfect as the Narrator guiding the audience through the fateful tale of The Rocky Horror Show.
"I am so excited to be joining The Rocky Horror Show as the Narrator – joining an illustrious and slightly chaotic list of Rocky Horror Narrators – from Gretel Killeen to Bert Newton, Derryn Hinch to my darling Myf Warhurst I fit right in! I'll see you at the show in Melbourne. It's just a jump to the left, after all!" said Joel.
Australian audiences could not get enough of superstar Jason Donovan starring as Frank N Furter! Returning cast alongside him, include Stellar Perry as Magenta/The Usherette, Deirdre Khoo as Janet, Henry Rollo as Riff Raff, Darcey Eagle as Columbia and Ellis Dolan as Eddie/Dr Scott.
Joining them in 2024 as Brad and the alternate Frank N Furter will be Blake Bowden (The Book of Mormon, The Phantom of the Opera, Fiddler on the Roof, Sweeney Todd) and as Rocky, Daniel Erbacher (Grease, Legally Blonde, Cruel Intentions the Musical).
Starring beside them on stage as The Phantoms will be Josh Gates, Hollie James, Nicolas Van Litsenborgh and Erica Wild with Keane Fletcher and Seryan Burke-Low rounding out the cast as the Swings. The Narrator in Sydney will be announced soon.
The 50th Anniversary Rocky Horror Show creative team includes Director Christopher Luscombe, Set Designer Hugh Durrant, Costume Designer Sue Blane, Choreographer Nathan M Wright, Lighting Designer Nick Richings, Music Richard Hartley (original musical arrangements).
Written and created by Richard O'Brien, The Rocky Horror Show has become one of the world's favourite musicals and is currently the only contemporary rock musical to celebrate 50 years on stage.
Since it first opened in London in 1973, The Rocky Horror Show has been continuously on stage somewhere in the world and has paved its way into history as one of the classics of musical theatre.
---
The Rocky Horror Show will play the Newcastle Civic Theatre from 12 January, Melbourne's Athenaeum Theatre from 9 February and the Theatre Royal Sydney from 31 March 2024. For more information, visit: www.rockyhorror.com.au for details.
Image: Joel Creasey – photo by Eugene Hyland