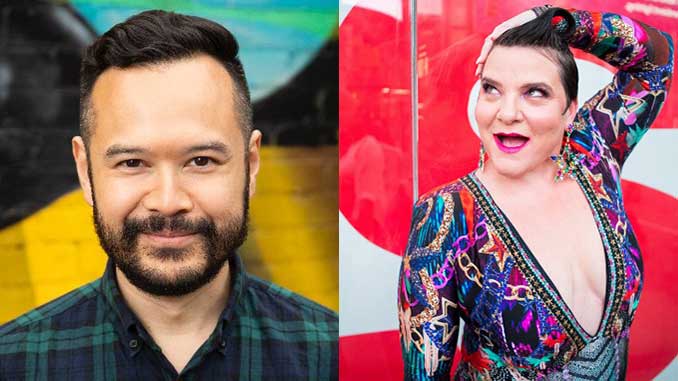 2023's LGBTQ community Honour Awards evening will be hosted by acclaimed journalist and broadcaster Jason Om, who'll be joined by singer Samantha Leith and a variety of presenters comprising local icons, allies and community members.
"This is a brilliant opportunity to put up our achievements in bright lights – and to be proud of how far we've come despite the odds," said Om.
"I think in the current climate we need to be backing each other as a community, everyone in the alphabet, so the Honour Awards are a chance to celebrate queer excellence in a really spectacular way."
Founded in 2007, the Honour Awards celebrate outstanding service to, and achievements within, the LGBTQ communities in New South Wales. The annual awards are also a gala fundraising event for ACON, NSW's leading HIV and LGBTQ health organisation.
A diverse mix of 35 finalists across nine categories covering the health, HIV, youth, community, business, entertainment, visual arts, media and cultural sectors will be honoured by over 300 guests at the Ivy Ballroom in Sydney on Wednesday 23 August.
Jason Om is a Walkley-winning reporter with the ABC's 7.30 program. Previously, he's been a presenter on the ABC News Channel and a reporter for ABC News Breakfast, ABC Life, Lateline and ABC Radio. He recently released his memoir, All Mixed Up, a powerful story about growing up as a gay Asian Australian, rediscovering love, and finding resilience.
Sydney-based singer and performer Samantha Leith has appeared on the Channel 7 show All Together Now and cabarets Drag, Divas and Desperados, Modern Family, The Magic of the Movies and A Trip Down Mardi Gras Lane,
"I am beyond thrilled to be a part of the 2023 ACON Honour Awards to be able to help show all the nominees and winners how appreciated they are," said Leith.
Also on the entertainment line-up is DJ Kate Monroe, serving up her much-loved party sounds.
The evening's silent auction will feature a huge range of fabulous products, services and bespoke experiences. All funds raised at Honour go back into helping our communities through ACON's health programs and services.
ACON CEO Nicolas Parkhill expressed his gratitude to all the organisations, businesses and people who continue to throw their support behind the Honour Awards every year.
"There are many ways that people and organisations in our communities can work to improve the health and wellbeing of LGBTQ people, and we're delighted that each year so many organisations show their support for the Honour Awards that recognises these efforts," said Parkhill.
"We look forward to celebrating the strength, diversity, resiliency and of course, fabulousness of our communities at this year's Honour Awards."
---
Read about the Honour Awards 2023 finalists here! The Honour Awards 2023 Cocktail Party & Ceremony will be held on Wednesday 23 August at the Ivy Ballroom, Sydney. For more information and bookings, visit: www.honourawards.com.au for details.
Image: Jason Om – photo by Sanjeev Singh | Samantha Leith (supplied)