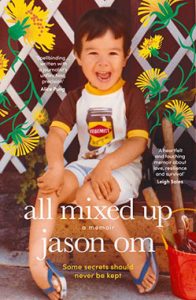 My family may have been all mixed up, but I discovered a love and a resilience that ran deeper than any of us could have imagined.
When Jason Om was just twelve, he witnessed his mother die of a heart attack. No one else was home and he blamed himself for her death. So begins this unflinching memoir about coming of age in a 'mixed-up' Melbourne family.
There was Jason's perfectionist Buddhist Cambodian father, his Catholic Eurasian mother, who seemed stricken by an inexplicable sadness, his Muslim Malaysian half-sister, his domineering grandmother, and various cousins, aunts and uncles on both sides.
Everyone seemed to harbour secrets, including Jason, but when he came out as gay, his openness was met with reticence.
It wasn't until the twentieth anniversary of his mother's death that he found the courage to uncover the truth about his family's past and the cause of his mother's sorrow, and was able at last to feel pride in his 'mixed-up' identity.
Candid and heartfelt, All Mixed Up is a compelling true story about trauma, identity and acceptance. It's also an uplifting celebration of authenticity, difference, resilience, hope and love by an exciting new Australian voice.
Jason Om is an award-winning reporter with the ABC's 7.30 program. Previously, he's been a presenter on the ABC News Channel and a reporter for ABC News Breakfast, ABC Life, Lateline and ABC Radio.
In 2017, he won widespread praise for his personal story about his dad's 16-year struggle to accept him as gay. The article and TV piece ran Australia-wide, attracting a million views.
Viewers were moved to tears, and the story earned Jason a nomination in the 2018 NSW (LGBTI) Honour Awards. All Mixed Up is his first book.
---
All Mixed Up is published by HarperCollins Publishers (ABC Books AU) and available from all good book retailers including Booktopia.
Image: All Mixed Up – courtesy of HarperCollins Publishers