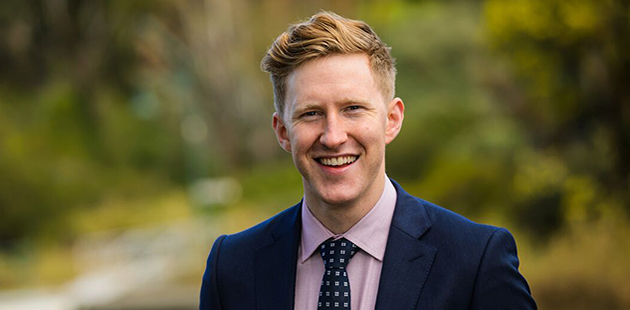 28 year old diversity and inclusion champion, Jason Ball has been announced as the Victorian Young Australian of the Year for his work tackling homophobia in sport.
When he came out in 2012, Jason was surprised by the splash his announcement made, as he was a country player at the time. With no openly gay players at the elite AFL level coming out in the male-dominated team sport, Jason's story captured the media's attention and the public's imagination. While Jason was met with overwhelming support, his personal story shone a light on the prevalence of homophobia in sport.
Since then, Jason has marched in Pride March Victoria alongside his teammates from the Yarra Glen Football Club. He kick-started the Pride Cup – an event that celebrates diversity and inclusion in sport and which was the inspiration for the AFL's Pride Game between St Kilda and Sydney.
He's trained AFL draftees on inclusive language, and has represented beyondblue and the Safe Schools Coalition Australia, speaking at schools, sporting clubs and conferences about mental health and inclusion. With tremendous courage and conviction, Jason has elevated the conversation about homophobia in sport.
Jason was announced as Victorian Young Australian of the Year at a special ceremony held at Government House this week ahead of other finalists: Tarang Chawla – Anti-domestic violence advocate; Dr Jessica Dean – Mental and sexual health crusader; and Grant Monks – Kidney health ambassador.
"The Australian of the Year Awards have historically been a powerful opportunity to shine a light on neglected social issues which need Australia's attention; from mental health to domestic violence and gender inequality," said Jason in a statement. "I will use this platform to continue to champion equality, acceptance and inclusion in sporting clubs, schools and workplaces."
"In doing so, I hope to do my bit to reduce the disproportionate rates of mental illness, attempted suicide and homelessness experienced by the LGBTI community. At a time of global uncertainty and when LGBTI people face persistent attacks from sections of the media and even from our own government, I feel passionately that we must be the change we want to see in the world, to build a future based on hope rather than fear."
"It was humbling to be in the same category as Tarang Chawla, Jessica Dean, and Grant Monks so I want to congratulate and thank them for all they have done and continue to do for our community," added Jason.
Jason is now in the running for the national award, which will be announced in Canberra on 25 January 2017. For more information, visit: www.australianoftheyear.org.au for details.
Image: Jason Ball