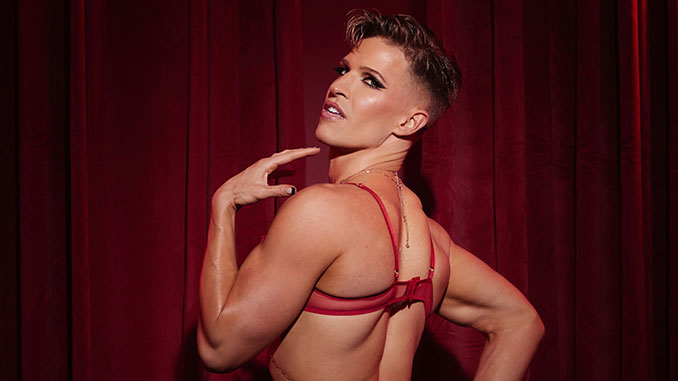 Strut & Fret producer, Scott Maidment is delighted to announce that international burlesque performer, fitness instructor, accomplished dancer, and acrobat Jake DuPree (they/them) is joining the Blanc de Blanc troupe from Wednesday 16 August 2023.
Jake, who just became the first non-binary person to perform at the Crazy Horse in Paris, is thrilled to be bringing their unique signature burlesque acts exclusively to Blanc, adding an exciting new twist to this sell-out show.
The deliciously hedonistic world of Blanc de Blanc Encore has been wowing audiences since January in the beautifully refurbished venue The Grand Electric, Surry Hills.
Blanc de Blanc Encore serves an intoxicating blend of fun, flirtation and acrobatic feats; enthralling audiences with the same addictive blend of acrobatic artistry and risqué revelry that its creators are world-renowned for.
The star studded, internationally sourced cast with its numerous Cirque du Soleil alumni includes familiar and much-loved performers, Felix Pouliot from Canada, aerialists Spencer Craig and Caitlin Tomson-Moylan from USA, Spencer Novich from the USA, Charles Eric Bouchard from Canada, Jess Mews, Sasha Lee Saunders and Melanie Hawkins from Australia.
Jake DuPree (they/them) just became the first non-binary person to perform at the Crazy Horse in Paris. They made their Hollywood Bowl debut performing in Kinky Boots, directed/ choreographed by Jerry Mitchell and starring Wayne Brady and Jake Shears.
They made their burlesque debut in Dita von Teese's Von Follies show doing her famous martini glass act. They have headlined shows at the Folies Bergere, Theatre des Varietes, and the Musee Des Arts Decoratifs at the Louvre in Paris.
They have also headlined at the Wintergarten Variete in Berlin, The Windmill Soho in London, and at the Blackpool Tower Ballroom in England. They consistently work with PopSugar Fitness to create fitness videos for YouTube, as well as weekly workouts on Patreon.
They danced on RuPaul's Drag Race: All Stars 3 as Shangela's partner in the "Kitty Girl" challenge. They work as a lingerie model/influencer with brands such as Playboy, Honey Birdette, Playful Promises, Blue Bella and Thistle & Spire.
---
Blanc de Blanc Encore is currently playing at The Grand Electric in Surry Hills (Sydney) until 17 September 2023. For more information, visit: www.blancshow.com for details.
Image: Jake DuPree – courtesy of Strut & Fret