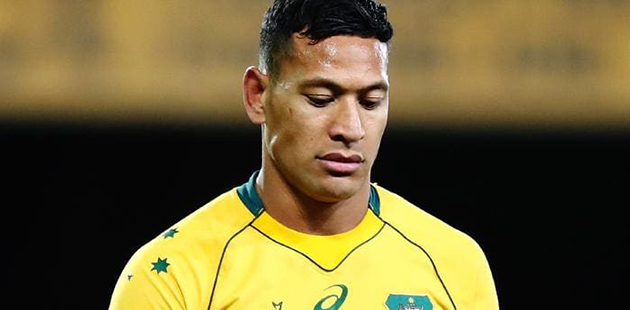 Homophobia and transphobia are becoming a regular fixture in the Australian sporting calendar. Last year, Margaret Court served up anti-LGBT+ comments, while the AFL came under fire for its treatment of the first transgender player in the AFLW.
Now rugby union star Israel Folau has joined in, saying on Instagram that gay people will go to hell unless they repent their sins. His teammate Curtis Rona has spoken out in support of Israel's views. Folau further expanded on his comments this week, penning an opinion piece where he quotes from the Bible and states "it was never my intention to hurt anyone with the Instagram comment".
This seems to be part of a broader trend in sport. Last month, the chief executive of the Australian Weightlifting Federation called on the International Olympic Committee (IOC) and the Commonwealth Games Federation to change their policies and ban NZ transgender weightlifter Laurel Hubbard from competing.
---
Read more: Note to Margaret Court: the Bible isn't meant to be read that literally

---
Some significant advancements have been made in gaining equality for LGBT+ athletes. Visibility of LGBT+ athletes has increased at the elite level and the IOC changed its policy on transgender athletes in 2016. However, there is still much work to be done.
Sport is not always a safe space
Research over the past decade has identified that homophobia, biphobia and transphobia are prevalent in Australian sport. A study I conducted with colleagues looked at diversity in community sports clubs and found that a more strategic approach to inclusion initiatives was needed.
A review and comparison of the frequency of homophobia across different countries from 2009-2016 shows that, on average, 73.3% of participants (across five key studies in the UK and Australia) reported witnessing or experiencing homophobia in sport. For Australia specifically, the figure was 85% – the highest percentage of the countries studied.
Recent research for a forthcoming report into a major sporting code, led by myself and colleagues, produced similar findings. We found that almost 50% of non-LGBT+ and almost 75% of LGBT+ respondents had witnessed homophobia in their sport at some time or another.
Homophobia in particular does not only impact lesbian, gay and bisexual people. If a person's sexuality is questioned, or an individual has friends or close family members who are LGBT+, it can still be a distressing experience. The Out in the Fields report showed that nearly one in three heterosexual men had been targeted by homophobia.
Ignoring homophobic comments won't help
After meeting with him to discuss his social media use, Rugby Australia has decided not to sanction Folau for his comments. By contrast, only three years ago Waratahs player Jacques Potgieter was fined A$20,000 for a homophobic slur during a match. A month ago, a British rugby player was handed a four-match ban, also for using a homophobic slur.
Simply ignoring Folau's comments is problematic. For many LGBT+ young people negotiating their sexuality or gender identity, especially in rural areas, they cannot readily just switch off or ignore the comments. In 2010, Australian research found that in sport and physical education, homophobic bullying, specifically verbal abuse, was closely associated with poor mental health and well-being in LGBT+ young people.
---
Read more: Why sport hasn't made much progress on LGBTI+ rights since the Sochi Olympics

---
Many teenage boys and young men may look up to sporting stars like Folau. This is concerning when evidence from across the globe and in Australia shows teenage boys and young men are most likely to discriminate against the LGBT+ community.
Sporting codes in Australia have an ethical and moral duty to provide safe environments for every Australian. They also must take appropriate action when their employees and players breach codes of conducts and policies.
How inclusive is Australian sport?
The extent of Australian sports' commitment to LGBT+ inclusion was revealed last year in the inaugural Pride in Sport Index awards. Each sporting organisation submits an application on its organisational practices around LGBTI** inclusion, and this is then marked out of 100. Among the ten organisations that submitted applications (eight of which were national sporting organisations), scores ranged from three to 36 out of 100.
The Pride in Sport Index launched off the back of the 2014 Bingham Cup. While the major sporting codes involved – including the NRL and AFL – agreed to help end homophobia in sport, evidence of any real commitment to tackling homophobia falls short.
Interestingly, the AFL had the top Pride in Sport Index score of 36. Although the AFL has supported some Pride Rounds, its handling of the Hannah Mouncey case showed a lack of respect towards the trans and gender diverse community. It is good to see sports commit to LGBT+ inclusion, but actually implementing these commitments is a whole other ball game.
Change is in the air
While there is clearly a problem with LGBTI+ inclusion in the higher ranks of the Australian sport system, and my research found some room for improvement around diversity at community sports clubs more broadly, there is in fact good work going on at the grassroots level. Cultural change is happening around the inclusion of LGBT+ athletes, driven by local sporting diversity champions, grassroots organisations, health providers, and community sports clubs.
The Gold Coast Pride House at the Commonwealth Games was a beacon of inclusion, and Jason Ball is taking his Pride Cup and grassroots football initiative across Australia after a successful crowdfunding campaign.
The Purple Bombers, Essendon Football Club's LGBT+ supporters group, have expanded their membership base and opportunities. Cricket Victoria recently launched the Proud Cricket program, aimed at engaging the LGBT+ community.
However, if national sporting organisations are really committed to LGBT+ inclusion, they might want to start engaging their local champions instead of their national champions.
---
I use the umbrella acronym of LGBT+ to include all identities associated with sexual orientation and gender identity. However, this piece specifically concerns LGBT+ and I encourage organisations to engage with Intersex Human Rights Australia for issues concerning athletes with intersex variations.
---
Israel Folau's comments remind us homophobia and transphobia are ever present in Australian sport
Ryan Storr, Lecturer in Sport Development, Western Sydney University
This article was originally published on The Conversation. Read the original article.
Image: Israel Folau (supplied)