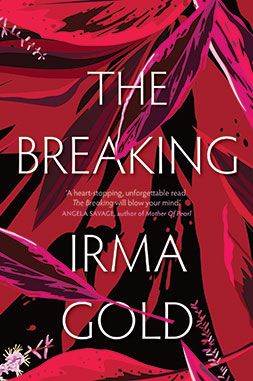 The Breaking is an extraordinary debut. Sharply observed and richly vivid, Irma Gold delivers an intensely moving story about the magnetic bond between two young women – friendship, companionship, falling in love – and the enduring cost of animal exploitation.
Hannah Bird has just arrived in Thailand. Disoriented and out of her depth, she meets Deven, a fierce and gutsy Australian expat who sweeps her into thrilling adventures rescuing elephants.
As they head deeper and deeper into the fraught world of elephant tourism, their lives become tangled in ways Hannah never imagined. But how far will they go to save a life?
Hannah is about to make a critical decision from which there will be no turning back, with shattering consequences.
Culturally intimate and immersive, this tenderly rendered love letter to Thailand, written from the intersection of the personal and political, the romantic and the ethical, takes in the many juxtapositions of Thai culture.
Kindness and cruelty, spirituality and the seedy, fun and danger, wealth and poverty, tourism and overdevelopment – and the one constant, the overwhelming beauty of the country and people.
The Breaking is at once devastating and exhilarating, sentimental and pragmatic, and ultimately transformative. And when the Author reveals what "The Breaking" is, it will break your heart.
Irma Gold is an award-winning author and editor. She has previously published a short fiction collection, Two Steps Forward, and her short fiction has been widely published in anthologies and journals like Meanjin, Island, Westerly, Going Down Swinging and Review of Australian Fiction, among many others.
She has also published three children's books, with another two forthcoming in 2021. She is co-host of the Secrets from the Green Room writing podcast.
The Breaking is her debut novel. It won the NSW Writers' Centre Varuna Fellowship Award and received development funding from artsACT and CAPO. Irma is Ambassador for Thailand's Save Elephant Foundation and has worked with rescued elephants in Chiang Mai, Surin and Kanchanaburi.
---
The Breaking is published by MidnightSun Publishing and available from all leading book sellers including Dymocks.
Image: The Breaking – courtesy of MidnightSun Publishing