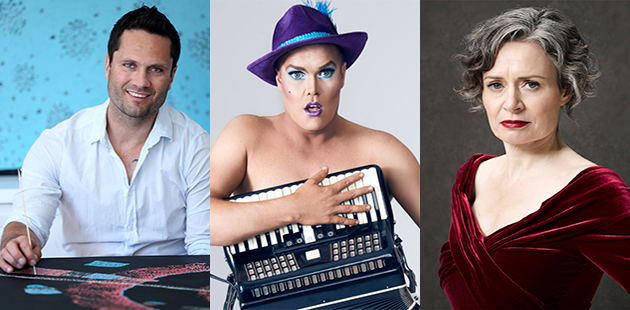 Award-winning Australian comedian Judith Lucy, international cabaret act Hans and acclaimed visual artist Gavin Wanganeen will help spread the news about the fabulous fun and divine madness on offer at Adelaide Fringe as official Ambassadors for the 2019 festival.
With each boasting extraordinary artistic talent and wide-reaching public profiles, the three Ambassadors will promote Australia's largest Arts Festival to national and international audiences. Adelaide Fringe Director and CEO Heather Croall said trio of Ambassadors reflected the Adelaide Fringe's commitment to cultural diversity and artistic inclusivity.
"We are honoured to have these terrifically talented artists as our Ambassadors for 2019. Audiences have long loved these three Australian stars and we are so grateful that they are going to help us spread the word and encourage more people to join us on the wild and wonderful Adelaide Fringe ride!" said Ms Croall.
Helpmann Award-winning Australian comedian Judith Lucy has been performing since 1995 and has made regular appearances at the Adelaide Fringe including the critically acclaimed, smash hit stage show Disappointments with Denise Scott in 2017. Lucy will present Judith Lucy Vs Men at the 2019 Adelaide Fringe – where she'll reflect on her history with men and whether she should ever date again.
"Thanks to the Fringe Festival I've been taking your cash, Adelaide, for nearly 30 years!" says Lucy. "I'm honoured to be the Fringe's Ambassador and I look forward to squeezing every last cent out of this fine city. Chin chin!"
Hans the Boy Wonder of Berlin has toured nationally and internationally during a career spanning more than a decade. He recently shot to a new level of fame when he reached the finals of America's Got Talent. Hans, who will share his recent experiences with 2019 Adelaide Fringe audiences during his new show Like a German, said he was honoured to be an Ambassador of the festival that gave him his start in the arts industry.
"I might be Berlin born, but honey, Adelaide is my adopted hometown and it's my absolute honour to be an Ambassador alongside two people I love – Judith Lucy and Gavin Wanganeen," says Hans. "I hope that in 2019, audiences help spread the word about this wonderful festival to their interstate friends and take some time to remember the original ethos of the Fringe by taking a chance on acts they've never heard of and grabbing a ticket to see some of our fabulous local artists."
Through his paintings, AFL legend turned contemporary visual artist Gavin Wanganeen explores his ancestral links to the Kokatha people of South Australia's Western Desert. Wanganeen will share his insights, stories and experiences with Coffee Pods podcaster Holly Ransom in front of a live audience for Fringe Talk Show – part of new festival genre Workshops & Talks – at the 2019 Adelaide Fringe.
Wanganeen said he was impressed by the festival's support for visual art and Indigenous culture through events and initiatives such as the Street Art Explosion and Tindo Utpurndee – Sunset Ceremony.
"I'm so excited to be an Ambassador for the 2019 Adelaide Fringe," said Wanganeen. "I'm a huge fan and I go to many shows each year with my kids and my wife Pippa. I always saw myself as an artist on the footy field, and now that I'm painting it's great to be able to express myself and learn more about my culture."
Judith Lucy Vs Men, Hans: Like a German and Fringe Talk Show are three of 24 events being presented at the 2019 Adelaide Fringe and now available for early ticket sales online. The full 2019 Adelaide Fringe program will be revealed in December. For more information, visit: www.adelaidefringe.com.au for details.
Image: Gavin Wanganeen, Hans and Judith Lucy are the 2019 Adelaide Fringe Ambassadors (supplied)