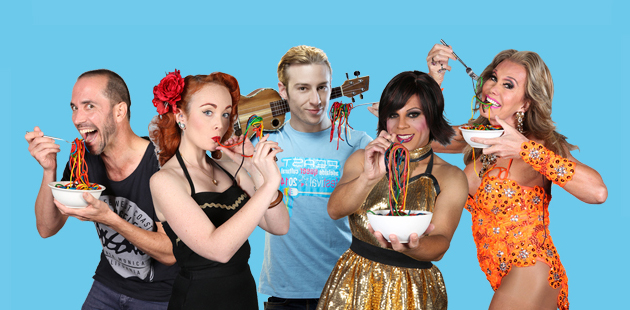 Adelaide is set to sparkle this November as the Feast Festival brings icons of stage, stand-up and screen from around the globe as part its 2014 program.
Australian entertainment legend Carlotta will dazzle audiences with her candid cabaret show Carlotta: Live and Intimate, a brutal and honest expose of the struggles and thrills of life as a groundbreaking female performer.
Carlotta will also present a special screening of the recent ABC telemovie about her life, and as one of Australia's most beloved trans icons she will also be a special guest at Feast's commemorative ceremony for the 16th International Transgender Day of Remembrance on Thursday 20 November.
Joining her will be award-winning American trans porn star and LGBTI icon Buck Angel, coming to Feast for a week of inspiring, sexy and fun events. Known as "the world's most famous transgender man", Buck will share his inspiring life story in a special lecture Bucking the System, as well as present screenings of documentary Mr Angel and his own film Sexing the Transman.
Buck will also appear in The Buck Stops Here, a special event with Art Gallery of South Australia Director Nick Mitzevich in which the two will discuss the gallery's life-sized sculpture of Buck by UK artist Marc Quinn.
One of Australia's most beloved and critically acclaimed comedians Hannah Gadsby headlines Feast's comedy line-up with The Exhibitionist, a comical look at art, portraits and propaganda, along with the nation's favourite Clown Prince of Polyester Bob Downe with his new show Bob, Sweat and Tears!.
Also on the comedy program are Melbourne Nova FM presenter and The Project regular Nath Valvo with Boy Next Door, the follow up to his hit 2013 show Almost 30. He'll be joined by fellow Melbourne comedians Thomas Jaspers with God, Save the Queen and Geraldine Hickey in Listen Out for the Castanets, as well as Adelaide local favourite Lori Bell.
South African sensation and star of the smash hit House of the Holy Afro Odidiva leads Feast's cabaret line-up with Bushwaacking, a dynamic blend of song, slam poetry, hip-hop, stand-up and social commentary on the politics of being "black, gay and loving in South Africa", along with Australian nude burlesque artist Maude Davey with her critically acclaimed cabaret show My Life in the Nude, her farewell to a 30 year career spent in the buff.
Also on the cabaret program are Olympic and Commonwealth Games gold medallist turned musical star Matthew Mitcham with his award-winning show Twists and Turns, Adelaide's favourite crooner Michael Griffiths, London cabaret star Spanky in the wildly funny Nasty!, rising Adelaide star Alison Coppe with her tribute to k.d Lang Constantly Craving k.d, Selina Jenkins as her endearing country boy alter-ego Beau Heartbreaker and Serpentine, a rock opera direct from the Edinburgh Festival that charts the evolution of the world's most notorious undergarment – the corset.
Adelaide's own Anne "Willsy" Wills will also delight audiences with a special in conversation event with ABC 891 Adelaide presenter Peter Goers, telling tall tales of her life in the spotlight.
On Feast's music program Scottish singing sensation Horse will bring her famous velvety vocals for a special one-off Adelaide concert, as well as dates in Port Augusta and Mount Gambier, while internationally acclaimed Taiwanese-Australian violinist Ray Chen will be joined by pianist Timothy Young for a special one night only concert of classical music at Adelaide Town Hall.
The program also features a vast array of visual arts events and exhibitions, literature events, food and wine tours, film screenings, Queer Ideas forums and more.
"This is the first time the Feast program has been fully curated, so the quality of the line-up is really second to none," said Artistic Director Catherine Fitzgerald. "We're so thrilled to be bringing these artists and shows to Adelaide, we really think there's something for everyone in this year's program, from comedy to cabaret, music and theatre."
"The Feast Festival turns 18 this year, and what better way to celebrate coming of age than with the best program yet!"
Now in its 18th year, Feast is Adelaide's largest LGBTIQ arts and cultural festival encompassing music, theatre, comedy, cabaret, film and visual arts, running 13 – 30 November 2014. For more information and full program, visit: www.feast.org.au for details.
Image: courtesy of Feast Festival