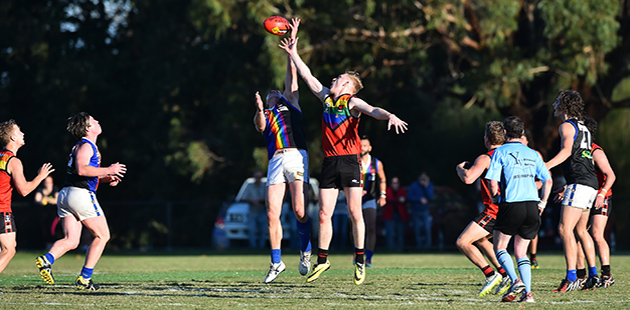 The 2017 Pride Cup takes place this Sunday 7 May, which will see Yarra Glen take on the Yea Tigers in a match to celebrate diversity and inclusion in sport for those who identify as lesbian, gay, bisexual, transgender and intersex (LGBTI).
Inclusion and diversity in Australia's favourite sport is gaining momentum, says Pride Cup founder and 2017 Young Australian of the Year for Victoria Jason Ball. He says he is proud to see inclusion and diversity spreading in his favourite sport:
"The Pride Cup has been not only been the inspiration behind the AFL's Pride Game, but it also inspired other community leagues to hold their own pride events at the grassroots level," said Ball. "From Hamilton to North Gippsland, the VAFA to the SFNL, I am so proud to see diversity and inclusion for LGBTI people spreading in the sport that I love. "
The 2017 Pride Cup will see a strong show of support. St Kilda Football Club CEO Matt Finnis, former St Kilda veteran Sam Fisher, winner of Australia's Got Talent Bonnie Anderson and a range of LGBTI groups including Team Melbourne, Dykes on Bikes, Rainbow Families, and GLOBE Melbourne will join local families to enjoy a day of football and netball games as part of their show of support for diversity and inclusion in sport.
Those attending Pride Cup on Sunday will be able to take photos with Holden's infamous Rainbow Colorados. The football ground will feature a rainbow 50 metre line in a show of support for diversity and inclusion from the whole community.
The 2017 Pride Cup takes place this Sunday 7 May at the Yarra Glen Recreation Reserve. Match Day activities commence at 8.55am – with the Pride Cup Opening Ceremony taking place at 2.10pm. For more information and complete program of activities, visit: www.pridecup.org.au for details.
Image: Pride Cup – photo by Theo Karanikos / AFL Media