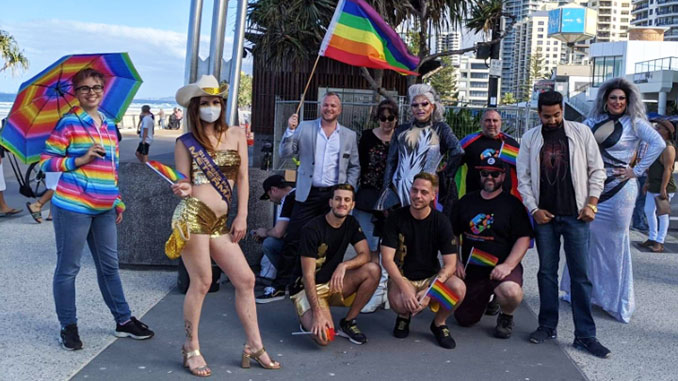 Get ready Gold Coast, the city's about to host a bunch of fabulous events celebrating LGBTIQA+ people up and down the coast! From 23 – 30 May the city will come alive with a range of events for young and old as part of the first ever Gold Coast Pride Week.
The Gold Coast is home to many gay, lesbian, bisexual and transgender people – but until now there have been few opportunities for the community to gather.
Gold Coast Pride Week 2021 will include a genderfluid picnic, a White Party on a yacht, various social events, a Pride Walk on the beach and the first ever Miss Gold Coast Drag Queen Pageant at the Pride Beach Party.
"It's an amazing honour to be able to present the Gold Coast's first ever Pride Week," said Gold Coast Pride Director, Vince Siciliani. "We see the Festival as an opportunity to do something good for our community after a difficult year."
"we encourage people both from the LGBTIQA+ community and the broader community to take part in the events on offer," said Mr Siciliani.
Taking place in beautiful Tallebudgera, the Genderfluid Picnic will kick off the week on the first Sunday, with a picnic, guided creek walk, activities and snacks provided.
It will offer an opportunity for gender-questioning, gender-neutral and gender-diverse people to gather in a low-key social setting beside one of the Gold Coast's most beloved and ever-changing creeks.
Designed with teen and mixed ability audiences in mind, the Genderfluid Picnic event is a collaboration with the NDIS and Seaweed Society and is an all-inclusive, all-ages event.
Other activities over the course of the first Gold Coast Pride week include Paint 'N Sip sessions in Burleigh Heads, where adults can enjoy a wine or two while painting to the beat of fabulous house tunes and sparkling entertainment.
An LGBTIQA+ community-focused Movie World excursion and Dracula's dinner event are also planned, while the Friday night of Pride Week sees a stylish all-white party on a yacht at Marina Mirage taking place.
The final weekend of the 2021 Pride Festival will feature three unforgettable events: A Pride Walk on the beach and afterparty on Saturday 29 May; and a Pride Beach Party featuring DJs and the Gold Coast's first ever Drag Queen Pageant on Sunday 30 May – to conclude the festival in style.
The Drag Queen pageant will see a bevy of glamorous gals battle it out for the crown of "Miss Gold Coast" in a light-hearted contest hosted by renowned local drag darling, Miss Carmen Taykett.
Families and teens will also be catered for at the Pride Festival with dedicated spaces and activities, while market stalls and food trucks will provide information and sustenance throughout the day.
"We're really proud to be bringing this event to the people of the Gold Coast, so they can witness and enjoy the talents of the vibrant and diverse community we have here," said Director Danni Zuvela.
"We're excited to be offering something for everyone – as well as hosting a number of 'firsts' for the Gold Coast, including the first ever genderfluid-focused event, Beach Walk with Pride and Pride Festival."
---
The inaugural Gold Coast Pride Festival runs 23 – 30 May 2021. For more information, visit: www.gcrainbowcommunities.com for details.
Image: Gold Coast Pride Festival – photo by Vince Siciliani