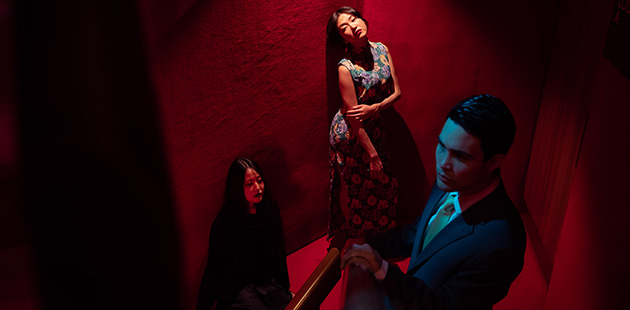 To celebrate the 20th anniversary of Hong Kong director Wong Kar-Wai's landmark film In the Mood for Love, the Sydney Opera House has commissioned In the Mood – A Love Letter to Wong Kar-wai & Hong Kong – a new work by Sydney artists Rainbow Chan, Eugene Choi and Marcus Whale to be livestreamed from the Joan Sutherland Theatre stage on Saturday 26 September 2020.
In the Mood, A Love Letter to Wong Kar-Wai and Hong Kong will feature a theatrical set, '60s style costumes, and sax-drenched renditions of the film's romantic soundtrack. New music by Chinese-Australian artists Rainbow Chan and Marcus Whale against a backdrop of narration by Eugene Choi will present an audiovisual journey that guides the audience through a heartbreaking cycle of longing, intimacy and forbidden love.
"For me, the sumptuous work of Wong Kar-Wai encapsulates a bittersweet nostalgia for my home, Hong Kong," said Rainbow Chan. "His oeuvre has been a quintessential influence not only on my creative output, but on my sense of cultural identity as a Hong Kong diasporic person. I'm absolutely delighted to be a part of this special show."
Inspired by In the Mood for Love's impressionistic end title – "That era is past, nothing that belonged to it exists anymore" – Chan, Choi and Whale explore their interwoven cultural heritage in a performance that echoes a collective nostalgia for their ancestral homeland.
Conceived in an era where lockdown and loneliness has forced us to reconcile our relationships and self-identities, Wong Kar-Wai's Palme d'Or-winning film is refracted onto the live stage; a musical meditation on the restorative power of unadulterated desire.
"We're exploring how distance and impossibility, both romantic and cultural, manifests in longing and yearning that is unspeakable and in some ways melodramatic – some things need to be sung to be properly expressed," said Marcus Whale. "Like Chow and Su, we sing in longing for the romantic others we can't be closer to, as well as in a longing for a distant ancestral homeland."
Taking cues from Australian cinematographer Christopher Doyle's plush red imagery, Tony Leung and Maggie Cheung's iconic costumes and the uninhibited script, the work will also preview new songs from Rainbow Chan's forthcoming third album and feature a choreographed bossa nova dance that takes audiences back to a simpler time and asks: are you in the mood for love?
"Making this performance has unveiled a lot of feelings – we are trying to navigate distance and closeness in a very weird and chaotic world," said Eugene Choi. "There are emotional layers shared between us – our familiar and nostalgic embodiment of yearnful love."
---
In the Mood – A Love Letter to Wong Kar-wai & Hong Kong will be live-streamed free from the Joan Sutherland Theatre stage – Sydney Opera House at 9.00pm – Saturday 26 September 2020. It will be available on demand after that! For more information, visit: www.sydneyoperahouse.com for details.
Image: Eugene Choi, Rainbow Chan and Marcus Whale – photo by Daniel Boud