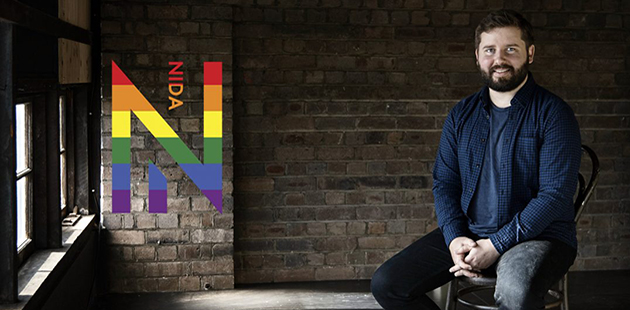 For almost half of NIDA's 60 years, homosexual activity was illegal, persecuted and discriminated against at all levels of law and society in Australia. This had a major impact on how LGBTQI+ stories were told on stage and screen – if at all.
This Valentine's Day, as part of NIDA's 60th anniversary celebrations, multi-award-winning Australian storytellers including comedian and broadcaster Tom Ballard, Sydney Theatre Company Artistic Director Kip Williams, award-winning performance artist and theatre director Harriet Gillies, and award-winning filmmaker, writer and director Leah Pellinkhof come to NIDA to lead In Conversation: Love is Love.
The panel discussion will look at LGBTQI+ depictions in film, theatre and television, and the impact of these depictions on the lived experience and the national consciousness, including controversies such as straight actors playing gay and lesbian roles, and whether gender fluid roles are being written and viewed differently.
Australia's most iconic LGBTQI+ story, Priscilla: Queen of the Desert, starring NIDA graduate Hugo Weaving, Guy Pearce and Terence Stamp­­­,was released 10 years after homosexuality was decriminalised in NSW, but its writer-director Stephan Elliott didn't come out as gay to the Australian public until 2012. For most of Australian history, being LGBTQI+ was not only illegal, but could end someone's career and even put their life in danger.
In 2019, those dark times seem well behind us as a cohort of NIDA students are busy fundraising and preparing for NIDA's inaugural participation in the Sydney Gay and Lesbian Mardi Gras Parade, an initiative the students spearheaded themselves. It signifies an important milestone, not only for NIDA, but also for Australia, reflecting a cultural turning point in the stories Australia is now eager to tell.
In Conversation: Love is Love will be held on Thursday 14 February 2019 from 6.00pm at the Parade Theatre – NIDA. For more information and tickets, visit: www.nida.edu.au for details.
Image: Kip Williams – photo by James Green