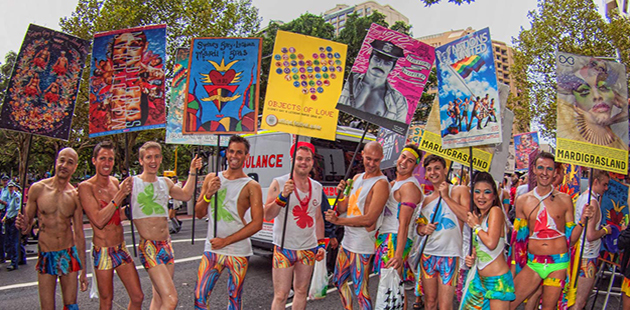 The International Gay & Lesbian Travel Association has announced a new two-year partnerships with Gay and Lesbian Tourism Australia and Sydney Gay and Lesbian Mardi Gras. By joining forces with the country's top lesbian, gay, bisexual and transgender tourism organisation and its world-famous LGBT event, IGLTA can better fulfill its commitment to promoting global LGBT tourism.
"Australia is a key destination for LGBT travelers worldwide, but our outreach in the country didn't appropriately reflect that," says IGLTA President/CEO John Tanzella. "A formal partnership with these two important organisations will assist our members in promoting the great destinations and events there, and help GALTA and Sydney Gay and Lesbian Mardi Gras better connect with the global tourism market."
GALTA is a national group of more than 240 tourism professionals dedicated to LGBT travel throughout Australia. Sydney Gay and Lesbian Mardi Gras is the community-based organisation that produces the legendary gay and lesbian festival in February and March each year. IGLTA has tourism business members in more than 75 countries. The three organisations will cross-promote their members and activities throughout their extensive networks.
"We are proud to join with IGLTA in a strategic partnership that will allow us to showcase our growing Australia-wide membership of gay-welcoming tourism providers to the world," says GALTA President Rod Stringer. "These are exciting times and while general tourism in Australia has somewhat stagnated, the potential to grow the LGBT inbound travelers to Australia is perfectly timed, especially with the lower Australian dollar making us a more attractive destination."
As part of the agreement, IGLTA member buyers also will receive commissions for selling Sydney Gay and Lesbian Mardi Gras.
"We are delighted to take our partnership from a presence at the IGLTA Annual Global Convention to a whole new level," says Sydney Gay and Lesbian Mardi Gras CEO Michael Rolik. "Mardi Gras attracts over 30,000 visitors and with the lower Australian dollar we expect this number to increase in 2015.  This partnership will provide opportunities for IGLTA members to tap into this growth in visitation and leverage our commissionable tickets scheme."
For more information about each organisation, visit: www.iglta.org or www.galta.com.au or www.mardigras.org.au for details.
Image: courtesy of Sydney Gay and Lesbian Mardi Gras