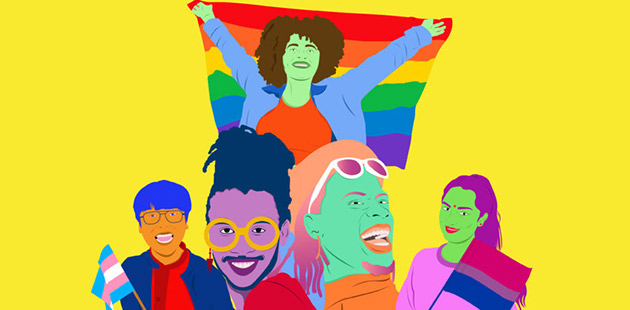 17 May is IDAHOBIT: International Day Against Homophobia, Biphobia, Interphobia and Transphobia. It was started in 2004 to commemorate the day in 1990 when the World Health Organization declassified homosexuality as a mental disorder.
There is still a long way to go because, as of 2020, there are still 68 countries where homosexuality is criminalised, and trans and gender diverse people around the world continue to face discrimination and pathologisation.
Over the years, the focus of the day has broadened to draw attention to the violence and prejudice experienced by all sexuality and gender diverse communities, as well as intersex people.
Today, IDAHOBIT is recognised in more than 130 countries, including Australia. This year's global theme is Breaking the Silence. It aims to challenge stigma, give hope and extend solidarity to those that cannot speak up.
For IDAHOBIT 2020, community organisations in NSW and around Australia sent the following IDAHOBIT messages for our communities.
---
Nicolas Parkhill, CEO ACON
"IDAHOBIT gives us an important opportunity to shine a light on the violence and discrimination our communities continue to face. Even with broad social progress, sexuality and gender diverse communities around the world are still subjected bias and prejudice, which can have significant impacts on their health and wellbeing."
"This year's theme of Breaking the Silence give us a chance to reflect on the importance of speaking up for equality and diversity, giving our communities' a voice and creating safe spaces where inclusion is celebrated."
"ACON is proud to work with our partners in celebrating the rich diversity of our vibrant communities in NSW. By raising visibility we hope to continue to address discrimination, and work towards fostering an inclusive society that is healthier for us all."
---
Anna Brown, CEO Equality Australia
"IDAHOBIT is a day where we are reminded that we are connected to a global movement to end discrimination and violence against LGBTIQ+ people, everywhere, and empower them to speak out. Australia has made significant strides, but there's still a way to go to removing barriers for LGBTIQ+ to equality."
"Sadly, there are new threats here and around the world that mean it's more important than ever that we come together as a community to ensure that our laws protect all of us, equally."
---
Albert Kruger, CEO Sydney Gay and Lesbian Mardi Gras
"Each year, the International Day Against Homophobia, Biphobia, Interphobia and Transphobia is a worldwide celebration of diversity and inclusion. Across Australia, around the Asia-Pacific region and throughout the world, LGBTQI people are everywhere. All of us deserve the same rights, opportunities and respect as anyone else. We must stand united against bigotry and hatred. Together we share our stories and create new allies, with a shared goal of a future where sexuality- and gender-diverse people are included and supported in every nation of the world."
---
Trans Pride Australia
"Trans Pride Australia invite our allies to stand with us this year for IDAHOBIT, those amazing folk who see trans and gender diverse people for exactly who we are – people, just like everyone else."
"We celebrate IDOHOBIT on 17 May in recognition of the day the World Health Organisation removed homosexuality as a diagnosis of mental illness in 1990 but it was only one year ago on 29 May that gender incongruence, the umbrella term that included TGD folk, was removed."
"There's still so much to be done before we can feel free from discrimination. Knowing there are people who wholly accept, support and stand beside us truly makes a difference."
---
Budi Sudarto, Australian GLBTIQ Multicultural Council
"IDAHOBIT means a lot to our communities, especially for us who came from overseas who see  Australia as a safe place to embrace and celebrate our unique identities and experiences. It is also a reminder that the fight for equality, equity and justice does not stop with the legalisation of same-sex marriage."
"We still need to continue advocating for inclusion for members of our communities who are confronted with multiple marginalisation and live with intersectional identities, including ethnic minorities, Indigenous communities, people with disabilities, those seeking asylum, and many more. Let's use IDAHOBIT to reflect and improve our practice to ensure that we embrace our wonderfully diverse communities."
---
Petina Smith, Board Member BlaQ
"IDAHOBIT is an international day against the many injustices we face as members of the LGBQTI community. Although we have made several significant changes in society, with changes in legislation and marriage equality, this day also reinforces the realisation that we still have a long way to go to achieve equality in society."
"The fact that we even need this day to raise awareness of the injustices we face speaks volumes.  I am hopeful of a future where we will be treated equally."
"Along with our friends, family and allies, we need to continue to callout and educate those who contribute to the stigmatisation, violence and discrimination against our Aboriginal and Torres Strait Islander rainbow community. The only cure for ignorance is education! Soft targets no more! Quit the stigmatisation, violence and discrimination!"
---
Teddy Cook, Manager Trans & Gender Diverse Health Equity, ACON
"As we reflect on and celebrate those important steps taken in 1990 to de-pathologise same-gender connections, let us also make space to raise our voices on 25 May 2019, the day – almost 20 years later – that the trans experience was finally declassified as a mental illness in the International Classification of Diseases, 11th edition (ICD-11)."
"This endorsement takes medical gender affirmation out of the Mental Disorders chapter and into a newly established Sexual Health chapter, alongside other hormonal and urogenital related issues."
"Australia's health officials can now implement these new standards to ensure trans and gender diverse people, across the country, and from wherever they live, can expect the highest attainable level of primary health care to medically affirm their gender, with our informed consent, and to self-determine our own futures."
---
Lyn Doherty, President Dykes on Bikes Sydney
"While Mardi Gras is about celebrating our sexuality, IDAHOBIT is about recognising the issues still facing our community both in Australia and Internationally. Most importantly those in countries that do not have the level of acceptance and where who they love can be a death sentence.  It's a day to reach out to the world wide community and let them know we stand beside them in their struggle."
---
Sydney Bi+ Network
"It can be hard to find the words to talk about biphobia and panphobia. On IDAHOBIT, we reflect on the importance of bi+ people as part of our rainbow community and history. Sydney Bi+ Network is here to support you."
---
Steph Lum, Co-Chair (2018-19), Intersex Human Rights Australia
"IDAHOBIT day is a time to celebrate and recognise the important history of the removal of homosexuality from the ICD. I call upon those celebrating IDAHOBIT day to act in solidarity with intersex individuals by acknowledging the ongoing pathologisation of intersex traits and recognising that there is much work to be done."
---
For more information about ACON, visit: www.acon.org.au for details.
Image: IDAHOBIT 2020: Breaking the Silence
Source: www.acon.org.au