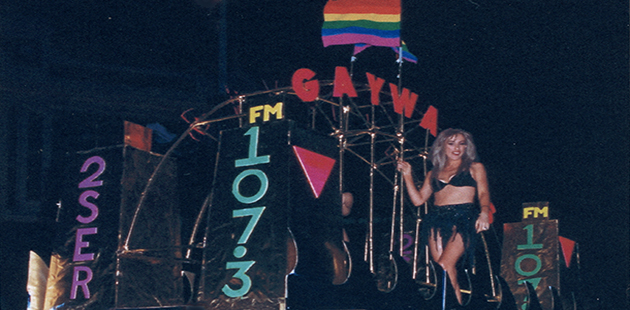 Sydney's first LGBTI radio program Gaywaves has been preserved by the National Film and Sound Archive of Australia (NFSA) – a project made possible by a bequest from the estate of gay rights activist and broadcaster Dietmar Hollman.
Gaywaves premiered in November 1979 – a time when male homosexual behaviour was still criminalised in all but one of Australia's states and territories. It aired weekly on community radio station 2SER from 1979 to 2005.
The program was ground-breaking and at times, controversial. The Australian Broadcasting Tribunal classified a 1982 episode on lesbian sexuality as 'indecent and obscene'. Despite this ruling, Gaywaves took a risk and re-played the episode during the program's 20th anniversary celebrations in 1999.
Week to week, Gaywaves illustrated the Australian gay liberation movement through coverage of HIV/AIDS rallies and Mardi Gras parades, interviews with community representatives, news, current affairs reports, music and even two radio dramas. It also shared content with the US program This Way Out, which had international distribution.
Gaywaves was run by a passionate group of volunteers including Dietmar Hollman, who joined the team in 1985 and worked on the program for more than 15 years as a presenter and producer. Hollman had previously been a member of the NSW Gay Rights Lobby. He donated his Gaywaves collection of recordings, posters, photos and other documents to the NFSA in 2009.
Before Dietmar Hollman passed away in 2012, he decided to further support the NFSA with a bequest which has allowed us to digitise more than 160 episodes of Gaywaves from 1985 to 2001 previously held on cassette and VHS, as well as all other LGBTI-related radio recordings in the NFSA collection. The bequest has also permitted the NFSA to acquire contemporary programs from Melbourne's JOY 94.9FM, Sydney's 2SER, Mountain District Radio 3MDR, among others.
'Through his generosity, Dietmar Hollman has guaranteed that the pioneering voices of Australia's gay liberation movement will be able to be heard by future generations,' explained radio archivist Chris Arneil.
Selected interviews and segments from Gaywaves can now be heard on the NFSA's SoundCloud channel. Members of the public and community organisations can explore the rest of the LGBTI radio collection online, and contact the NFSA to make use of this important resource. For more information, visit: www.nfsa.gov.au for details.
Image: Gaywaves float at the 1994 Sydney Gay and Lesbian Mardi Gras Parade – courtesy of 2SER