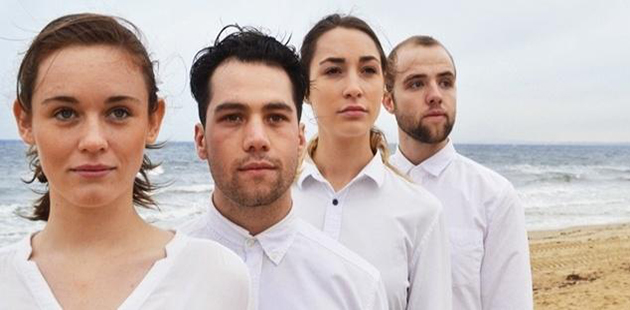 Inspired by true accounts of discrimination everywhere, I Still Call Australia Homo explores what it is like to live in a country that outlaws homosexuality, presented at the Darebin Arts Centre: 18 – 19 April as part of the True North Festival.
Let us all rejoice, for we are young and… free? What if Australia was the world's worst place to be gay? Imagine living in the perfect neighbourhood; manicured gardens, a darling husband or wife, the most delightful neighbours… all the while hiding a secret for fear of being attacked, assaulted or even imprisoned.
In & Out Project is made up of four recent graduates of the Victorian College of the Arts. Emma Annand, Sonja Bishopp, Ryan Forbes and Adam Ibrahim have successfully established themselves as writers and performers, creating new work together in collaboration with other artists.
I Still Call Australia Homo is co-directed by Tanya Dickson and designed by Jack Fordham and was developed at the Victorian College of the Arts (VCA). It debuted at the Melbourne Fringe Festival 2014 and was a top 3 pick (Myron My) as a part of VCA's FR!SK festival. It then went on to tour in regional Victoria (Nattimuk) and has just completed a successful season at the Adelaide Fringe Festival.
I Still Call Australia Homo
Darebin Arts & Entertainment Centre, Corner Bell Street and St Georges Road, Preston
Performances: 18 & 19 April 2015 – 3.00pm / 7.00pm
Information and bookings: www.truenorthfestival.com.au
Image: Cast of I Still Call Australia Homo