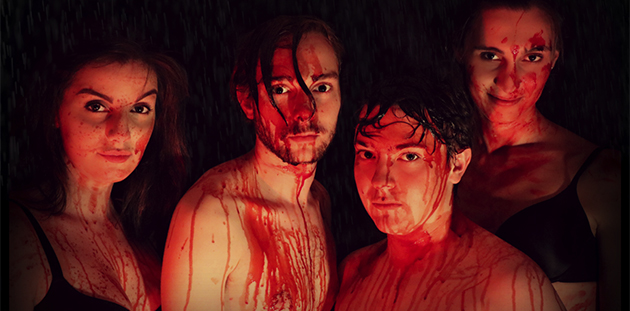 A contemporary, hybrid-experimental theatre piece which sets out to explore our perceived realities and the effects of trauma, Bearfoot Theatre presents I Hope it's Not Raining in London at selected venues in New South Wales and Victoria throughout June and July 2019.
Young emerging artist, Nicholas Thoroughgood, has written a sophisticated short play, which places two strangers together in a mysterious room. Neither of them has knowledge of where they are currently existing and how they got there – and the newest to arrive has no memories whatsoever.
Small shoe-boxes appear sporadically – containing objects which trigger memories for them both and gradually their significant life stories are remembered and painfully explored.
"Calling this play merely absurdist is negating every element of reality that lies within it," says Thoroughgood. "I've certainly used absurdism as an element, an element which becomes more and more prevalent as the show goes on, but I don't think that it's fair to these characters to shove their actions under the name of absurdity. It's an absurd situation, but the way they act is very real."
"I went into the project with three solid concepts; giving a director complete creative freedom in a work, breaking the concept of gender normality in theatre, and taking a retrospective look at life from those who are no longer fully involved."
I Hope it's Not Raining in London was originally produced by Bearfoot Theatre in July 2018. Directed by Riley McLean, this production was nominated for 3 City of Newcastle Drama Association Awards: Best New Work, Best Ensemble and Best Direction.
Producer/Director: Riley McLean Featuring: Daniel Cottier, Cassie Hamilton, Nicholas Thoroughgood, Zoe Walker Stage Manager: Tyler Atcheson Playwright: Nicholas Thoroughgood
---
I Hope it's Not Raining in London
The Launch Pad, 13 Pioneer Avenue, Tuggerah
Performance: Sunday 23 June 2019 – 7.30pm
Bookings: www.trybooking.com
PACT Centre for Emerging Artists, 107 Railway Parade, Erskineville
Season: 26 – 29 June 2019
Bookings: www.trybooking.com
The Creative Arts Space, 145 Beaumont Street, Hamilton (Newcastle)
Season: 4 – 5 July 2019
Bookings: www.trybooking.com
The Butterfly Club, 5 Carson Place, Melbourne
Season: 8 – 13 July 2019
Bookings: www.thebutterflyclub.com
Cube 37 – Frankston Arts Centre, Davey Street, Frankston
Performance: Friday 19 July 2019 – 7.00pm
Bookings: www.artscentre.frankston.vic.gov.au
Burrinja Cultural Centre, Corner Glenfern Road and Matson Drive, Upwey
Performance: Saturday 20 July 2019 – 8.00pm
Bookings: www.burrinja.org.au
For more information, visit: www.bearfoottheatre.org.au for details.
Image: Zoe Walker, Daniel Cottier, Nicholas Thoroughgood and Cassie Hamilton – photo by Riley McLean