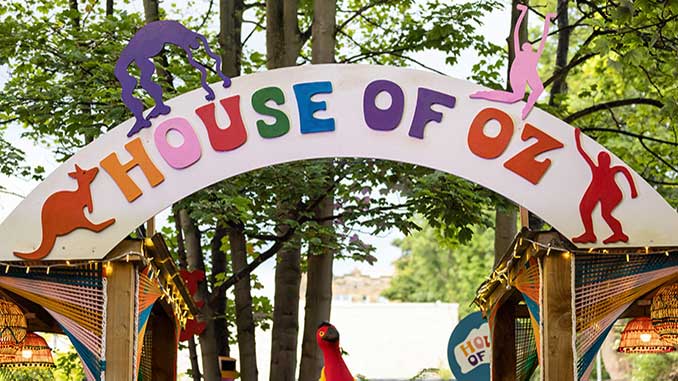 Voted Edinburgh Fringe's best venue in 2022, House of Oz at King's Hall in Newington is back bigger and better this year, presenting eight of Australia's most exciting new artists throughout August.
Celebrating the best in Australian creativity, from site-specific immersive theatre to family entertainment, as well as the best in the worlds of comedy, cabaret and circus, there is truly something for everyone at House of Oz.
This year's program champions original and boundary-pushing work, such as immersive audio experience Two Strangers Walk Into a Bar… the Adelaide smash-hit by award-winning actor, writer and director Tilda Cobham-Harvey that invites audience members to forge connections with a complete stranger.
A breakout theatrical success from festivals across Australia, Jonny Hawkins transforms into "working class glamour queen" Maureen as they celebrate the indomitable voice, wisdom and passion of dames who defy invisibility.
Blending circus and contemporary theatre, Common Dissonance from Melbourne-based Na Djinang Circus explores modern Australian identity and asks if there is space for the acceptance of indigenous spirituality in 21st Century Australia.
In the world of comedy, audiences can look forward to the UK debut of one of Australia's most exciting, rising stars in Anna Piper Scott: Such an Inspiration. As both a transwoman and comedian, Anna grapples with a volatile conversation that has touched some of the biggest names in comedy like Hannah Gadsby and Dave Chappelle, about how to make fun of yourself whilst retaining a foundational respect for who you are.
Younger audiences won't be left out this year, with shows for all the family to enjoy. Beetle – a new work from acclaimed physical theatre artists Legs On The Wall, is a heart-warming story that brings the magic of the Australian bush to life through the company's trademark physical storytelling, alongside beautiful animated illustrations by beloved children's author and illustrator Freya Blackwood.
Making their 10th Fringe appearance, family Fringe favourites The Listies return with Make Some Noise – a joyous musical mishmash of sketches, songs and clowning that have brought fun and laughter to gazillions of 'kidults' around the world.
Audiences can be sure to revel in an evening at the House of Oz that is filled with music and cabaret. Michaela Burger traverses her family's past in a new, original musical tribute, A Migrant's Son. Featuring a live band, including piano and bouzouki, Michaela pays tribute to her Greek migrant family and hard-working, fun-loving larrikin father Luke who defied all odds.
Armed with stilettos and a four-octave range, Leather Lungs: Higher Love is set to raise the roof of the House of Oz, as the queen of falsetto storms into Edinburgh with a heart-stopping celebration of liberation and exploration, featuring powerhouse anthems from Queen and Abba performed as you've never heard them before.
The infamous Haus Party is back! Otto & Astrid (from Die Roten Punkte), Berlin's prince and princess of art rock and Europop host a raucous evening of the very best musical comedy, circus and variety acts.
Set to ignite the imaginations of Edinburgh Fringe audiences, Artist Lisa Roet's Skywalker Gibbon – a massive inflatable is taking pride of place above House of Oz.
Based in Melbourne, Roet is an Australian artist whose previous work has graced locations from Beijing to Inverleith House, although this year will mark her first visit to Edinburgh. The structure will be not only an exciting visual for audiences to spot throughout August, it is also a firm statement for environmental sustainability.
In addition to its visually arresting look, visitors can also listen out for the peculiar love call of the gibbon which will be played between show times at the venue.
---
Located at Kings Hall, Edinburgh, House of Oz continues to 27 August 2023. For more information and full program, visit: www.houseofoz.co.uk for details.
Image: House of Oz – photo by Jess Shurte