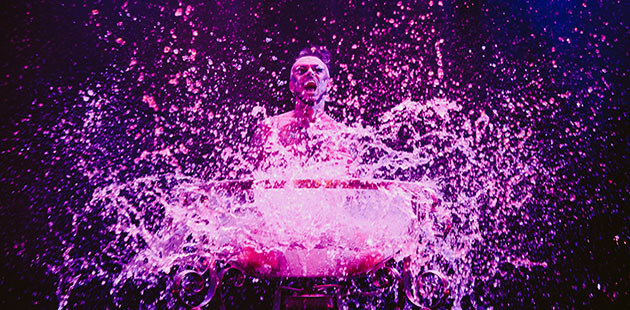 Riding the wave of its first successful live programming since re-opening, Home of the Arts, Gold Coast (HOTA) has announced that their popular FIRESIDE program will continue from 21 August with an incredible line-up of artists and great food in the cosy surrounds of HOTA's Lakeside Room.
HOTA CEO, Criena Gehrke, said the events to-date, which have featured a mix of well-known names, unique experiences and the best in homegrown arts, have been well received by audiences. "Over the last month, our FIRESIDE program featured 16 events, 90 artists, 1000 (socially distanced) people, a whole heap of hand sanitiser and some much-needed good times," she said.
"It was a real privilege to welcome back artists and audiences, and the extension of FIRESIDE enables us to keep giving extraordinary experiences to our community. With another exceptional line-up of artists, there's no doubt this will be another sellout success," said Ms Gehrke.
Cult cabaret favourites, Club Briefs, will cause some glorious chaos in an entertaining 18+ evening on Friday 21 August, followed by rock legend Russell Morris, who will perform his greatest hits on Saturday 22 August.
During a weekend of the classics from 29 – 30 August, Queensland Ballet and Queensland Symphony Orchestra will present their incredible artists up-close in the intimate setting of HOTA's Lakeside Room, with some enchanting and unforgettable performances.
Cinema aficionados can get their fix with two events on 11 & 12 September as The History of Animation unfolds alongside a concert by master percussionist Ben Walsh, and string virtuoso, Shenzo Gregorio; and The Honey Sliders with their 'party-rock dirtycountry' sounds will perform songs from the revolutionary film, Easy Rider.
Those wanting to get creative can enjoy workshops with a twist in HOTA's Larger than Life Drawing session (Sunday 6 September) and Storyfest's Write In The Moment workshop (Saturday 22 August), where real life prompt cards starring 'unusual characters living in strange moments' provide inspiration for writers.
Gold Coast artists will battle it out in front of a live audience to create the best artwork in an hour in FIRESIDE's Art Battle (Friday 4 September), and those wanting to show off their literary prowess can enjoy an afternoon of Book Trivia on Saturday 12 September.
Many of the events will include eats in the ticket price, with either a high tea pre-show or a supper to finish off the night's entertainment. Tickets are now on sale – for more information, visit: www.hota.com.au for details.
Image: Club Briefs – photo by Kate Pardey