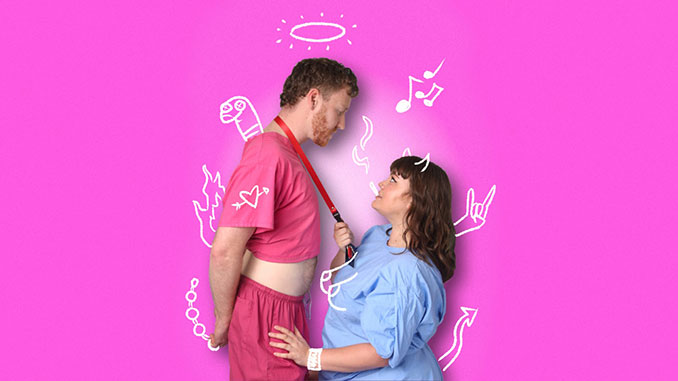 Following a sold-out debut run at the 2023 Melbourne International Comedy Festival, Tommy & Eadie are back for their second admission with HOT FAT CRAZY at Trades Hall Carlton, as part of the 2023 Melbourne Fringe Festival, from 4 October.
With direction by Aubrey Flood, this two-person musical sketch comedy is a love letter to the psych ward, being fat, and a lesson in why that makes you HOT!
Written by and starring, Eadie Teatro-Girasole and Thomas Bradford, with cameo appearances by Georgia Gurr and Cat Woodfield, HOT FAT CRAZY is the inaugural show from emerging comedy duo, Tommy & Eadie.
Born out of Eadie's eye-opening, healing and hilarious experiences with the public and private mental health systems and her journey of reclaiming the word FAT and rejecting its negative connotations.
HOT FAT CRAZY submerges you in a hyper-surreal, bizarre and silly fictional Psych Ward, where Inpatients get it on, Wizards cure your depression with the power of magnetism, and everyone is gunning to be the Psychiatrist's funniest client.
With a score of entirely original songs, spanning multiple genres, Tommy & Eadie take you on a lyrical journey with their powerhouse vocals and musical stylings, while they attempt to nail the intricate dance moves – and did we mention the 27 SOCK PUPPETS?
HOT FAT CRAZY moves away from tired tropes and stereotypes and instead plants a big ole loving smooch on the lips of the psych ward, being fat, and a lesson in why that makes you HOT!
"Fearless and fierce performances … vocals that rolls off the tongue like soothing honey… both of them bounce off each other wonderfully, complimenting their characters all the way." – Weekend Notes
---
HOT FAT CRAZY
Festival Hub: Trades Hall – Music Room, Corner Lygon and Victoria Streets, Carlton
Season: 4 – 8 October 2023
Information and Bookings: www.melbournefringe.com.au
Image: Thomas Bradford and Eadie Teatro-Girasole (supplied)