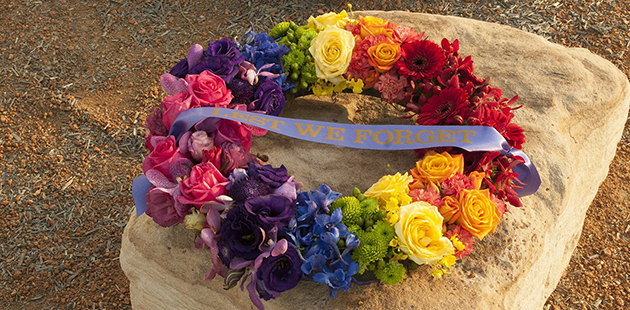 On Anzac Day, Australians honour the sacrifice of all those who have served to defend the country in war and peace. It is a special day on the Australian calendar where everyone has the opportunity to honour and remember a person, a unit or any group of people who served their country.
Anzac commemorations have evolved over the past hundred years, reflecting the changing nature of Australian society. The post-Vietnam era, in particular, has seen those attending events embrace multiculturalism, with different communities within Australia developing their own traditions and practices to honour their families' and friends' contributions to our nation.
Most Australians would conceive of the archetypal Anzac as a bronzed, white male larrikin who had no qualms mocking authority, facing impossible odds on the battlefield and standing up for his mates. While we maintain justifiable pride in this figure of legend, historians have pointed out that Anzacs came from across society and included members with a range of backgrounds such as Chinese, Aboriginal, Eastern European, Jewish, or Pacific Islander. We should not overlook the contribution of any individual or group who served.
Aboriginal and Torres Strait Islander commemorative practices at sites such as the Redfern Coloured Diggers march bring together traditional tropes such as The Last Post, as well as Indigenous practices such as a smoking ceremony and didgeridoo performances. Vietnamese Australians – some of them veterans of the Vietnam war – often march alongside the Australian and New Zealand contingents at Anzac Day events, and Jewish Australians – who had higher than average representation in First World War – conduct an annual commemoration and wreath-laying.
Over the years, it has been the malleability of Anzac Day that has led different groups to seek inclusion in the Anzac mythology because of the distinct association it has with what it means to be Australian. Seeking membership in the Anzac legend has not always been easy because it has required space in people's hearts and minds to recognise the diversity of the original Anzacs, as well as the growing diversity of the current Australian Defence Force.
In the Second World War and more recent conflicts, we have seen an even greater diversity of service members; the growing number of women is one such example. Female veterans told a recent government forum that they did not feel that they received recognition for their service, prompting Minister for Veterans' Affairs Dan Tehan to call for greater understanding of the service and sacrifice of Australia's female veterans. "Many of our female veterans observed that when they wore their medals in public many people assumed they were wearing the medals of their father or grandfather," said Teehan
An inclusive approach — that doesn't mandate invisibility of certain veterans — honours the rich diversity of veterans that should stand alongside the stereotypical Anzac hero in the minds of the public. Invisibility is damaging, because Anzacs have always come from all walks of life, and it is a disservice to their memory to pretend that they were all one and the same. Sentiments to make LGBTI people invisible have caused substantial damage having driven people out of families, out of textbooks, out of history and out of Defence. Making people invisible is the polar opposite of being more inclusive.
Commemoration of LGBTI service personnel was a difficult journey with some seeking to make that service invisible. Representatives from Gay Ex-Services Association were prevented from placing a wreath at Melbourne's Shrine of Remembrance during the public wreath-laying on Anzac Day in 1982. The card accompanying the wreath read: "For all our brothers and sisters who died during the wars." The ex-servicemen were led away by police that year — but thankfully never again.
Various associations that help honour the many different groups of personnel that have served our nation and remember their fallen members. As the association representing LGBTI service personnel and their families, DEFGLIS lays rainbow wreaths on Anzac Day to pay respects to all who served, past and present, and to honour with pride the LGBTI service personnel among them. Following representations and the urging from LGBTI ex-service personnel, DEFGLIS renewed the practice of wreath-laying in 2015. As many associations decorate their wreaths with symbols of those who served, rainbow flowers adorn our wreaths to represent the diversity of those who served.
DEFGLIS participates in Anzac Day because this day is important to all Australians. It is a day where we can celebrate our shared values as Australians and be proud of who we are. Wreath-laying is an activity that seeks to recognise all who served. We do not know who they all were, but they don't deserve to be forgotten. The rainbow wreaths placed by DEFGLIS incorporate respectful commemoration of LGBTI personnel who served, and recognition about the effects that the wars had on their families.
Honouring all our diggers: why we lay rainbow wreaths
Vince Chong and Dr. Noah Riseman 

This article was originally published on the DEFGLIS website – republished with kind permission.
Image: Commemorative Rainbow Wreath for Canberra – courtesy of DEFGLIS