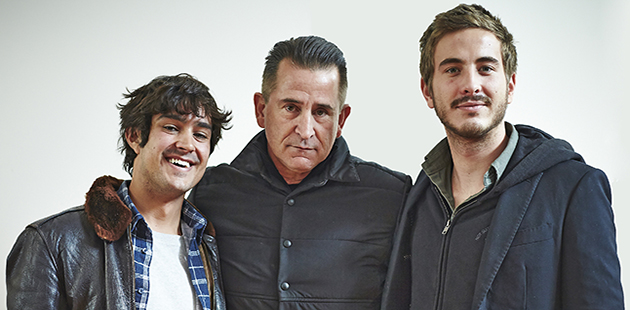 A stellar cast including Anthony LaPaglia, Guy Pearce and Kerry Fox begins filming in Melbourne this week on the Goalpost Pictures Australia production of Holding The Man, the new feature film from acclaimed director Neil Armfield (Candy) and Goalpost Pictures producer Kylie du Fresne (The Sapphires).
Ryan Corr and Craig Stott will star in this remarkable true-life story as Timothy Conigrave and John Caleo, whose enduring love has been immortalised in both Tim's cult-classic and hilarious memoir and Tommy Murphy's award-winning stage play of the same name. Murphy has adapted Tim's book for the screen.
Anthony LaPaglia and Camilla Ah Kin play John's parents Bob and Lois Caleo, Guy Pearce and Kerry Fox play Tim's parents Dick and Mary-Gert.
Tim and John fell in love while teenagers at their all-boys high school. John was captain of the football team, Tim an aspiring actor playing a minor part in Romeo and Juliet. Their romance endured for 15 years to laugh in the face of everything life threw at it – the separations, the discriminations, the temptations, the jealousies and the losses – until the only problem that love can't solve, tried to destroy them.
"The success of Tim Conigrave's book and Tommy Murphy's stage play proves that this is a love story that speaks across generations, sexualities and cultures," says producer Kylie du Fresne.
"It is, at last, a love story for everyone! Neil and I are very proud to have assembled such a stunning cast to bring Holding The Man to the screen."
Considered one of Australia's most compelling young actors, Ryan Corr has been released by the Sydney Theatre Company from the cast of Cyrano de Bergerac so that he can accept this leading role in the film. Ryan will also be in Russell Crowe's The Water Diviner and is known and loved by Australian television audiences for his role in Packed to the Rafters. His other roles include the BBC production Banished from Jimmy McGovern and Wolf Creek 2.
Craig Stott is returning to Australia from his base in Los Angeles to take on the role of John. An actor since the age of 10, Craig is best known for his roles in the television series East of Everything (with Richard Roxburgh, Susie Porter and Gia Carides) and in Geoffrey Wright's adaptation of Macbeth, which starred Sam Worthington.
"Holding The Man is a love story that will move, enthrall and surprise a broad audience. This truly is a love story for everybody. Tommy Murphy's exceptional screenplay is smart, funny and deeply moving, and we are thrilled to once again be working with Neil Armfield," say Richard Payten and Andrew Mackie from domestic distributor Transmission Films.
Holding The Man is being made with the financial support of Screen Australia, Screen Victoria, Screen NSW and private investor Cameron Huang.
For more information and to keep up to date, visit: www.facebook.com/HoldingTheManFilm for details.
Image: Craig Stott, Anthony LaPaglia and Ryan Corr who are set to feature in the film, Holding The Man