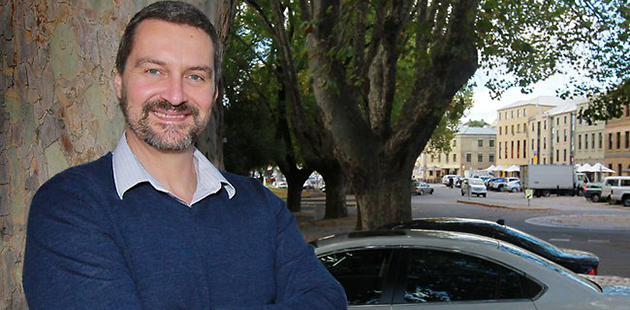 Advocates have congratulated the Hobart City Council on its unanimous support for a motion calling for the federal government to allow same-sex couples to marry.
"Hobart City Council has confirmed that our city is inclusive, and supports everyone being treated fairly and equality," said Australian Marriage Equality national director, Rodney Croome. "I hope other councils around Tasmania and the nation are inspired to follow Hobart's lead."
The motion will see Council write to the federal government calling for a conscience vote, and to all Tasmania's federal representatives asking them to vote for marriage equality, was passed without dissent at this evening's Council meeting.
Aldermen Damon Thomas and Tanya Denison expressed concern the motion is not core business but supported it, in Alderman Thomas' case because of strong community representations in favour.
Addressing their concern Mr Croome said, "Social inclusion is core Council business and marriage equality is all about ensuring same-sex couples and their families are included in one of our most important social and legal institutions."
During debate on the motion Alderman Anna Reynolds noted local government has led the way on marriage equality in other countries. Alderman Eva Ruzicka pointed out it is the role of local government to represent majority support for the reform.
Alderman Philip Cocker said he looks forward to the time when all loving couples are treated equally. Lord Mayor, Sue Hickey, drew a parallel between the inequities faced by same-sex couples and the stigma attached to unmarried motherhood when she attended a Catholic school in the 1970s.
Alderman Jeff Briscoe said it is disappointing Launceston City Council recently missed the opportunity to take a lead on the issue by knocking back a similar motion. He added that 80% of the letters he had received were in support of the motion, a proportion he believes is representative of Hobart residents.
Spokesperson for Rainbow Communities Tasmania, Deidre Murray, said, "I am happy the Council has supported this important motion, but I'm ecstatic for my children and the other children of same-sex partners. Marriage equality is about recognising and supporting all families."
"I want to see a time when we no longer talk about gay marriage but marriage, not gay people but people."
For more information, visit: www.australianmarriageequality.org for details.
Image: Rodney Croome