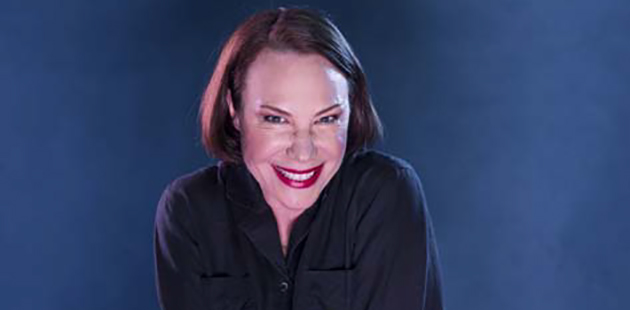 A tenderly heartfelt and highly intelligent new work from one of the ground-breaking artists of our time, Taylor Mac – whose A 24-Decade History of Popular Music was the critical smash hit of the 2017 Melbourne Festival – Red Stitch presents the Victorian premiere of Hir for a limited season from 3 February 2018.
Max is a transgender teen living with mum Paige and father Arnold. When brother Isaac returns home from the marines, he discovers a house in revolt. Finally liberated from an oppressive marriage, Paige is set to dismantle the patriarchy and follow Max into a brave new postgender world. But in this savagely funny work, annihilating the past doesn't always free you from it.
Red Stitch ensemble member Paul Ashcroft appears as Isaac, with Belinda McClory returning to Red Stitch as the compelling Paige. Ben Grant, Harvey Kaska Zielinski and director Daniel Clarke will make their debuts with the Company.
Taylor Mac (who uses "judy", lowercase sic, not as a name but as a gender pronoun) is an award-winning playwright, actor, singer-songwriter, performance artist, director and producer. "A critical darling of the New York scene" (New York Magazine), judy's work has been performed at literally hundreds of theatres, museums, music halls, opera houses, cabarets, and festivals around the globe.
judy is the author of 17 full-length plays and performance pieces including A 24-Decade History of Popular Music, Hir, The Lily's Revenge, The Walk Across America for Mother Earth, The Young Ladies Of, Red Tide Blooming, and The Be(a)st of Taylor Mac.
Recent acting roles include: Shen Teh/Shui Ta in The Foundry Theatre's production of Good Person of Szechwan at La Mama and the Public Theatre; Puck/Egeus in the Classic Stage Company's A Midsummer's Night Dream; the title role in various productions of judy's play, The Lily's Revenge;and opposite Mandy Patinkin in the two-man vaudeville, The Last Two People On Earth.
"A crackling production of a remarkable, audacious, uproarious black comedy with a daring combination of realism and madcap absurdity." – The New York Times
Director: Daniel Clarke Featuring: Paul Ashcroft, Ben Grant, Belinda McClory, Harvey Kaska Zielinski Set and Costume Design: Adrienne Chisholm Lighting Design: Richard Vabre Sound Design: Ian Moorhead Assistant Director: Thomas Quirk Dialect Coach: Jean Goodwin Stage Managers: Jackie Mates, Stephanie Young Assistant Stage Manager: Sophie Capern
Hir
Red Stitch Actors Theatre, Rear 2 Chapel Street, St. Kilda
Season: 3 February – 4 March 2018
Information and Bookings: www.redstitch.net
Image: Belinda McClory stars as Paige in the Victorian premiere of Hir (supplied)