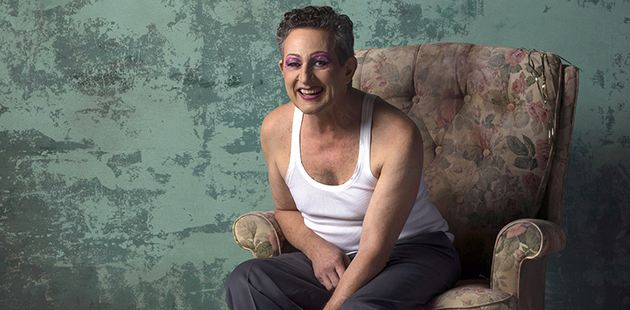 A tenderly heartfelt and highly intelligent new work from one of the ground-breaking artists of our time, Black Swan presents the West Australian premiere season of Hir by Taylor Mac in Studio Underground – State Theatre Centre of WA until 27 May 2018.
Isaac returns home after serving a three-year stint in Afghanistan, only to discover his family household in revolt. His father, Arnold, has suffered a stroke rendering him nearly speechless. His mother, Paige, has become a gender studies aficionado. And his younger sister, Max, is now his younger brother. Isaac suddenly finds himself at the centre of a very different kind of war zone.
Hir (a gender-neutral pronoun of "his" and "her," pronounced "here") is an audacious dive into the dysfunctional-family playpen of American theatre. A highly intelligent, heartfelt and humorous portrayal of a middle-class family in crisis is fresh, feisty and emotionally gripping – it's like The American Dream is stuck in the American reality. Darkly comic – like "Roseanne on acid"!
Taylor Mac (who uses "judy", lowercase sic, not as a name but as a gender pronoun) is an award-winning playwright, actor, singer-songwriter, performance artist, director and producer. "A critical darling of the New York scene" (New York Magazine), judy's work has been performed at literally hundreds of theatres, museums, music halls, opera houses, cabarets, and festivals around the globe.
judy is the author of 17 full-length plays and performance pieces including A 24-Decade History of Popular Music, Hir, The Lily's Revenge, The Walk Across America for Mother Earth, The Young Ladies Of, Red Tide Blooming, and The Be(a)st of Taylor Mac.
Recent acting roles include: Shen Teh/Shui Ta in The Foundry Theatre's production of Good Person of Szechwan at La Mama and the Public Theatre; Puck/Egeus in the Classic Stage Company's A Midsummer's Night Dream; the title role in various productions of judy's play, The Lily's Revenge;and opposite Mandy Patinkin in the two-man vaudeville, The Last Two People On Earth.
"A crackling production of a remarkable, audacious, uproarious black comedy with a daring combination of realism and madcap absurdity." – The New York Times
Director: Zoe Pepper Featuring: Will O'Mahony, Jack Palit, Igor Sas, Toni Scanlan Set Designer: Tyler Hill Costume Designer: Tarryn Gill Sound Designer/Composer: Brett Smith Lighting Designer: Lucy Birkinshaw Fight Director: Andy Fraser Voice & Dialect Coach: Luzita Fereday
Hir
Studio Underground – State Theatre Centre of WA, William Street, Perth
Season continues to 27 May 2018
Information and Bookings: www.bsstc.com.au
Image: Igor Sas as Arnold in Hir – photo by Cameron Etchells