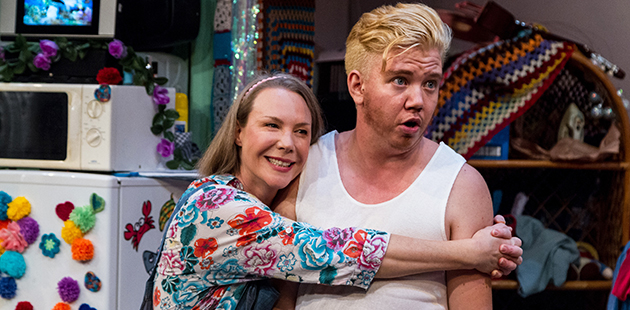 There's something of a Trojan horse about Hir – showing the audience one thing, but underneath doing something completely different.
There's a frenetic exterior. Isaac has returned home from serving in the military, shocked to find his memory of an orthodox house shattered by the unorthodox actions of his mother, Paige. The house has become a cavalcade of mess and disorder, angles preferable to the linear. His father, Arnold, is made-up, drugged-up, tottering about in nappies and nightie, while his sister, Max, has since transitioned to his brother.
Under the hood a darker engine is running. As the play progresses and we become more aware of Isaac's debilitating PTSD, we understand that Paige has struggled with her own PTSD. While hers is no less insidious, it's essentially driven her to weaponise social progression in order to take back the power Arnold and the larger patriarchal society spent so long keeping from her.
Those in the audience over-laughing at slightest slapstick early on were the ones most quiet when the darkness came and boy did it come unforgivingly. Overheard among the audience at the interval were no shortage of people lamenting a lack of focus; no such complaints at the end, though, as Taylor Mac's script and Daniel Clarke's direction brought the show to a brutal, concussive point. Sure, the stage is a mess, but the real devastation is psychological, Paige's exhaustion reminiscent of the weariness of Daniel Plainview in There Will Be Blood's final gripping moments.
Belinda McClory's fantastic performance as Paige certainly anchors a lot of the show, but it's like a body orbiting another in Jordan Fraser-Trumble's determined turn as Isaac. This dysfunctional binary system drives the piece, but it isn't all bleak. Through Ben Grant's inner child peeping out in the role as humiliated patriarch, Arnold, to Harvey Zaska-Zielinski's remarkable work as Max, Taylor lets in small moments of light and laughs even as they come with cost, boring down on the truth at the heart of this family.
At the beginning, the opening bars of Somewhere over the Rainbow let us know we're about to be in a place we don't expect – a troubled land of family and trauma. A peace of sorts is reached by the end, but it's no resolution. Difficult truths have been laid bare that may prove more familiar for the audience than they'd care to admit.
Hir
Red Stitch Actors Theatre, Rear 2 Chapel Street, St. Kilda
Performance: Saturday 3 February 2018 – 8.00pm
Season continues to 4 March 2018
Information and Bookings: www.redstitch.net
Image: Belinda McClory and Harvey Kaska Zielinski star in Hir – photo by Teresa Noble
Review: David Collins (originally published on Australian Arts Review)