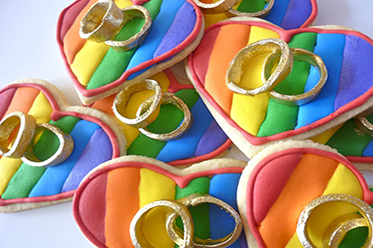 The ACT will host the first same-sex marriages in Australian history this weekend, after the High Court reserved its decision in the Commonwealth's challenge to the territory laws.
The court has reserved its decision in the case, in which the Commonwealth argues the territory's historic laws are in contravention of the federal marriage act, until 12 December 2013.
This means couples could have a five-day window to wed under the country's first same-sex marriage law before a decision is published by the court as to whether or not to overturn the Act.
ACT Attorney-General Simon Corbell said couples would be able to get married this weekend at least. "No injunction has been sought so that means the laws are operational this weekend," said Mr Corbell.
"Couples who have given their notice can get married this weekend, albeit with the uncertainty surrounding this case yet to be resolved."
Australian Marriage Equality director Rodney Croome said that in "all probability we have a five-day window in which same sex couples will marry on Australian soil for the first time".
"All of those Australians that support marriage equality will be overjoyed that finally in this country we will see same-sex couples marrying," said Mr Croome.
"We will see the love and commitment these couples share … All the nation will see that just because they're marrying the sky won't fall in."
Mr Corbell said 47 couples had already given at least a month's notice of their intention to marry, as required under the law.
"It clearly demonstrates same-sex couples and their families are yearning to declare their commitment in a marriage ceremony and the ACT law will provide that opportunity," said Mr Corbell.
"Everything about this case has been unexpected and I won't be entirely comfortable until we hear the decision. I am pleased couples will have the opportunity to marry this weekend even with the case pending and the uncertainty."
"Same sex couples understand these ceremonies aren't without some doubt but I know they will embrace the opportunity to marry under the ACT law this weekend."
The case is the first real test of whether or not states and territories can legislate for same-sex marriage.
For more information, visit: www.australianmarriageequality.com for details.