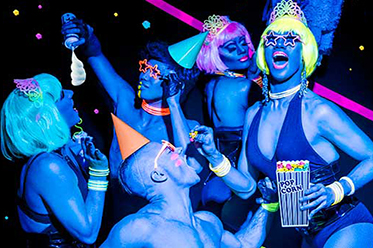 Hen's nights have been put on notice at a popular Melbourne night-spot following feedback from patrons.
The GH Hotel in St. Kilda is one of Melbourne's most popular gay venues, but has also become popular destination for hen's nights, with some patrons claiming they are obnoxious and over-run the venue.
In response to recent feedback from patrons, GH management have implemented a policy for the benefit of all guests attending the venue. The new policy takes effect from this weekend (Saturday 5 April).
"Whilst we're here to make your special night one to remember, please be aware that marriage is legally out of reach for many of our clientele," says the GH website.
"Whilst marriage equality is something we are still fighting for, please remember that not every patron will feel the same excitement about your special day as you do, and we ask that you show respect to our regular patrons who cannot legally marry.
"Hen's are strongly recommended to book in advance in order to avoid disappointment as we have limited space for hen's within the venue."
"On particularly busy nights and for special events the GH reserves the right to limit the number of hen's groups or exclude entry to these groups altogether. For this reason we recommend booking in advance as this will ensure you are not turned away at the door due to a busy night or special event."
"It is the responsibility of the entire group to ensure every member complies with our behaviour and dress code policies. We will not make exceptions to our policies for anyone and any breach of these policies may result in refusal of service, refusal of entry, or removal from the venue."
For more information and to read the full GH Hen's Policy, visit: www.ghhotel.com.au/hens-policy
Image: courtesy of the GH Hotel